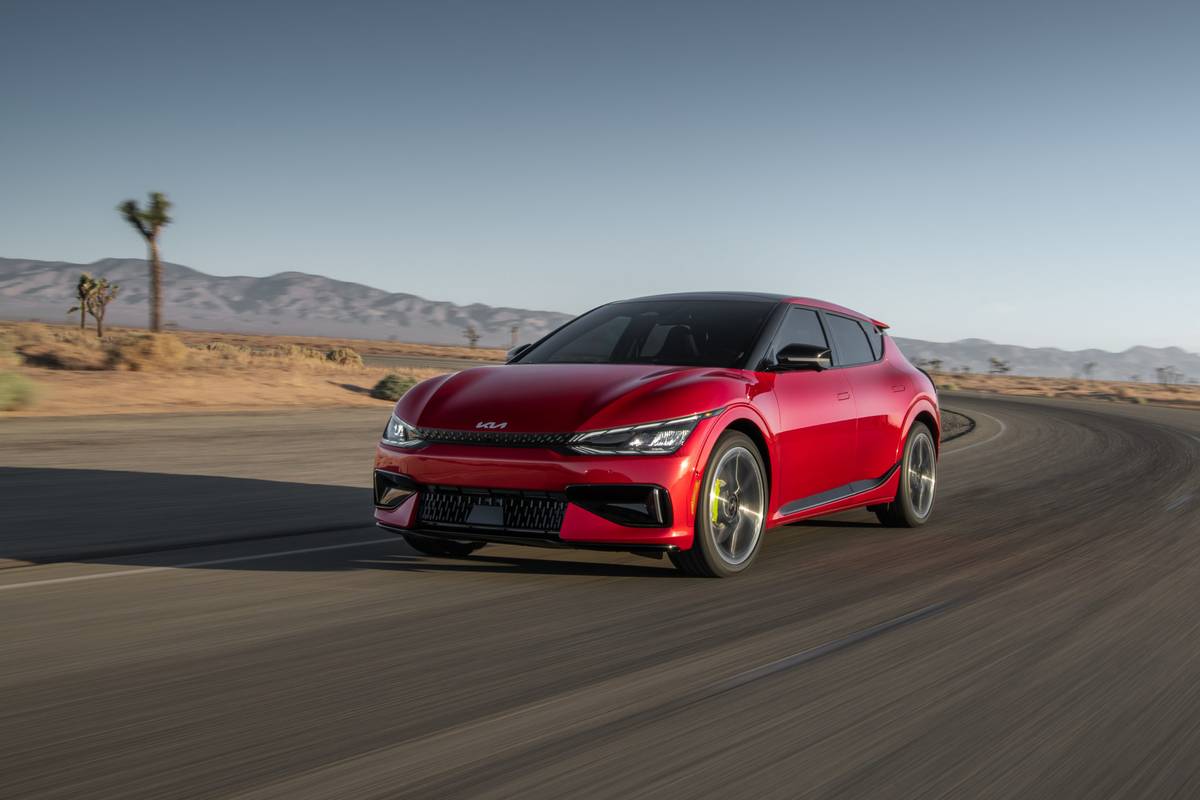 2023 Kia EV6 earns IIHS Top Safety Pick+ honors
The 2023 Kia EV6 electric crossover earned a Top Safety Pick+ distinction, the highest safety award bestowed by the Insurance Institute for Highway Safety and widely considered to be the most rigorous award issued by crash and safety agencies. The distinction applies only to those models fitted with new headlights built after August of this year, the IIHS explained in a press release issued Tuesday.
New for 2022, the Kia EV6 electric car earned top "Good" ratings on all six crash tests performed by the IIHS, but that doesn't include the tougher side impact test the insurance industry-funded group has implemented for 2023 awards. An electric crossover rival, the 2022 Ford Mustang Mach-E aced the new side impact test that replicates a car getting T-boned at an intersection at faster speeds than previously tested. The test employs a heavier 4,200-pound barrier to better reflect the weight of more crossover SUVs on roadways, including heavier electric vehicles. The IIHS didn't explain why the EV6 did not get tested with the heavier barrier impact.
Still, the Kia EV6 joins more than 70 out of at least 225 vehicles tested to earn the coveted Top Safety Pick+ rating.
The Kia EV6 and related Hyundai Ioniq 5 have not yet been crash-tested by the NHTSA.
The Kia EV6 also prevented a crash as well as withstanding a crash, earning a top "Superior" rating for its standard automatic emergency braking system. In tests at 12 mph and 25 mph, the EV6 avoided colliding with other vehicles, and at the same speeds it avoided colliding with adult pedestrian dummies crossing in front of the car. At 37 mph the car avoided hitting a pedestrian dummy walking alongside the road.
The one caveat to the EV6's safety success comes from its headlights. Vehicles built before September had headlights rated at "Poor," thereby disqualifying it from a TSP. Since September, Kia has built the EV with "Good" LED reflector headlights with better visibility on curves. The IIHS says that Kia sent notices to customers of earlier-build models with an offer to adjust the headlights free of charge.