Jim Ellis Automotive Group Celebrates 50 Years in Business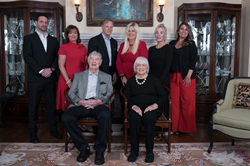 A half-century can bring about many changes; however, one thing remains the same — our values and commitment to those we serve.

ATLANTA (PRWEB)
May 11, 2021
Jim Ellis Automotive Group – Atlanta's largest family-owned and operated automotive group, is proudly celebrating its 50th year in business. Over the course of 50 incredible years, Jim Ellis Automotive Group has grown to become a trusted household name in the Atlanta area and throughout Georgia.
The company cites its community support, commitment to customer service, and adapting to the evolving car-buying experience with new technology as part of its success story.
HOW IT BEGAN
Growing up, Jim Ellis was no stranger to hard work as he had many jobs he held all at once. He worked on a farm, had a milk and paper route, performed some construction, ran a concessions business at Grant Park, and ran a laundry route. By the time he completed West Georgia College and Georgia State University in 1957 with a BBA in general management, he had worked as a prison guard and foreman; sold insurance, IBM Machines, and real estate; and held various other jobs to work his way through college. After returning from serving two years in the U.S. Army, Mr. Ellis went back to what he knew, holding a variety of jobs until he found his place in the automobile business with General Motors in 1960. During his tenure at General Motors, Jim was asked to relocate to the company's headquarters in Detroit, Michigan. Instead, he chose to continue raising his family in Georgia, and in 1965, Jim was hired at Chris Motors Volkswagen in Decatur.
In 1970, Jim Ellis and his wife Billie had an opportunity to establish their very own automobile dealership. They took the biggest financial plunge of their lives, sold several of their assets, used all of their savings, cashed in Billie's retirement fund from over 15 years at Georgia Tech, and borrowed the balance to begin Jim Ellis Volkswagen in 1971.
What began as a significant business risk turned into a growing and thriving business for the Ellis family over the years to follow, allowing the Ellis family to offer employment to thousands of Atlantans over the years and provide a business for future generations of the Ellis family to grow into and eventually manage.
ESTABLISHING A FAMILY CULTURE
In more recent years, both Jim and Billie Ellis have stepped back from their active roles in the company while several family members still play an active role in the business including three generations with responsibilities that are spread throughout the company. Their son, Jimmy Ellis, serves as the company president and CEO. Their daughters, Karen Ellis-Black and Kristi Ellis-Cohron both serve as corporate officers. Karen's daughter, Brooke Ellis-Gatlin, serves as vice president of human resources. Brooke's daughter, Ivie Gatlin, currently works at Audi Atlanta and is working towards a business management degree to further enhance her career with the company. Jimmy's daughter, Stacey Ellis-Hodges, serves as vice president of group support operations and corporate directors. Jimmy's son Wesley Ellis, serves as vice president of Jim Ellis Ford Sandy Springs, Jim Ellis Hyundai, Jim Ellis Genesis, Jim Ellis Volkswagen Atlanta and Jim Ellis Toyota of McDonough. Jim's niece, Mickey Patterson, and her sons Andrew and Chris Roper, also work for the company. The notion of family is engrained in the culture of Jim Ellis Automotive Group.
THE JIM ELLIS PROMISE
An important key to success for the family-owned business was the adoption of a simple selling philosophy — strive to treat every customer like they are family, also known as the Jim Ellis Promise. The Jim Ellis Promise is simply a way of emphasizing the higher level of service customers can expect when they choose Jim Ellis for their automotive needs. It's more than words, it's how their employees strive to perform their job every day. The philosophy is based upon principles such as: greet each customer with a warm welcome, respect each client's valuable time, and of course, treat every customer like they are family.
With those principles in mind, the automotive group has been successful in both growth and reputation. They have expanded from one flagship Volkswagen dealership in Chamblee to now 20 dealerships located in the Metro-Atlanta area, Buford, Kennesaw, Marietta, McDonough, Sandy Springs and South Fulton.
"As we celebrate this milestone, we sincerely thank our thousands of loyal customers who have helped us grow," said Jimmy Ellis, president of Jim Ellis Automotive Group. "A half-century can bring about many changes; however, one thing remains the same — our values and commitment to those we serve. We look forward to the next 50 years of memories."
Jim Ellis Automotive Group currently employs over 1,500 employees, with 20 dealerships, representing 16 iconic brands and is on track for continued growth with a new state-of-the-art Cadillac dealership set to open later this year. The portfolio of current brands includes Alfa Romeo, Audi, Buick, Chevrolet, Ford, Genesis, GMC, Hyundai, Kia, Maserati, Mazda, Mercedes-Benz, Porsche, Toyota, Volkswagen and Volvo.
GIVING BACK
The concept of giving back is something that Jim and Billie instilled in their children and it now has carried on from generation to generation to become part of the Jim Ellis Automotive Group DNA. Through the Jim and Billie Ellis Foundation, the company has donated over 50 million dollars to local organizations. Jim and Billie's leadership has inspired their children and the company's employees to give back to the community.
Each year, the Jim Ellis Automotive Group raises money to support local organizations that help serve underprivileged children and women in need. One of the ways that is accomplished is through an annual Holiday Giving Campaign. In 2019, the company-wide campaign raised $65,000 for Children's Healthcare of Atlanta, which helped provide pediatric cancer patients with music therapy, special visits from canine assistants and one-on-one sessions with on-site schoolteachers and chaplains. The 2020 Holiday Giving Campaign raised $65,000 for the Empty Stocking Fund — resulting in 2,000 underprivileged children receiving toys for the holidays.
Another fundraising effort that has been an annual event since its conception in 2001 is the Jim Ellis Automotive Group Charity Golf Tournament. The event was created to raise money for various charities that are near and dear to the hearts of Jim Ellis employees.
Whether it's supporting child education programs, first responders, teachers, women, filling local food banks, or partnering with organizations to provide shelter for the homeless; the Jim Ellis Automotive Group is dedicated to serving those in need within the communities they serve.
PREPARING FOR THE FUTURE
Staying up to date with technology, Jim Ellis Automotive Group has enhanced the car-buying experience with the Jim Ellis Express Way — their way of making a vehicle purchase quick, easy and more convenient than ever before. The Jim Ellis Express Way breaks away from the traditional car-buying experience by allowing customers to shop for their next vehicle completely online. The digital tool enables customers to shop, buy and trade their way on their own schedule. Customers can shop thousands of vehicles, configure their payment, value their trade, secure financing and more — all from a mobile device, tablet or computer.
Pivoting towards a more sustainable future, automakers are electrifying their lineups and Jim Ellis dealerships are proud to offer several electric and hybrid vehicles in their inventory. From the Audi e-Tron, Chevrolet Bolt, and Porsche Taycan to the Volkswagen ID.4, Jim Ellis Automotive Group is moving aggressively to expand their electric-vehicle offerings with several new models set to arrive in the next couple of years. Additionally, service teams and staff continue to undergo training on these new electric vehicles to ensure proper care for the latest slew of technology-packed automobiles.
50 YEARS OF EXCELLENCE
In honor of the 50th anniversary, Jim Ellis Automotive Group has launched a special "50-years of Excellence" marketing campaign and is in the process of developing a 50th Anniversary video. As gatherings become safe again, the Ellis family is hopeful to have a company-wide celebration event later this year. Additionally, individual dealerships within the automotive group are encouraged to develop special customer incentives to help commemorate the anniversary.
For more information on a Jim Ellis Automotive Group dealership or to start your vehicle shopping experience online, visit http://www.JimEllis.com.
ABOUT JIM ELLIS AUTOMOTIVE GROUP

Jim Ellis Automotive Group has been serving the Atlanta area since 1971, starting with Volkswagen as the flagship brand. The group has expanded to 16 brands and 20 dealerships covering Atlanta, Buford, Kennesaw, McDonough, Marietta, Sandy Springs and South Fulton. Visit online at JimEllis.com