Win a Rare 425-hp 1971 Corvette LS6 in the Classic Corvette Dream Giveaway
[ad_1]

The Classic Corvette Dream Giveaway is your chance to own one of the rarest and most powerful Corvettes produced: The 1971 Corvette Coupe equipped with the LS6 454/425-hp V8. Fifty years ago, Corvette Chief Engineer Zora Arkus-Duntov was facing significant pushback from both Chevy's bean counters and the American insurance industry over its planned performance engine line-up and some consider the mighty 425-hp LS6 to be the chief engineer's swan song. However, the exorbitant pricing for the LS6 meant that few customers could afford it and only 188 were produced.
You can win this rare 1971 Corvette LS6 when you make a tax-deductible donation to the Classic Corvette Dream Giveaway which supports a variety of well-known children and veteran's charities. CorvetteBlogger readers get DOUBLE BONUS ENTRIES so get your tickets to this fabulous C3 Corvette plus $42,000 cash to pay the taxes.
Imagine bringing home a 1971 Corvette T-Top Coupe in War Bonnet Yellow with the 454/425-hp LS6 V8 engine! This legendary American sports car comes with a host of options including the M21 close-ratio four-speed manual transmission, power steering and brakes, positraction and a 3.55 rear end, plus power windows, shoulder harnesses, tilt-telescopic steering column, and an AM/FM radio.
The LS6 big-block V8 is one of the rarest engine offerings for the Corvette with only 188 produced during its one year run. Originally canceled in 1970 along with the LS7 454 V8 as part of John Delorean's "deproliferation" campaign to streamline offerings and remove underperforming RPOs, Zora Arkus-Duntov and his engineers were able to bring it back in 1971 for one last hooray. Built from cast iron and featuring aluminum heads and a high lift solid lifter cam, it had a 9.0:1 compression so it could run on low-lead or unleaded fuel. That drop in compression did reduce the horsepower rating from 450 to 425, but it was still capable of powering the Corvette from 0 to 60 miles per hour in 5.3 seconds and running the quarter-mile in the 12s. It would be the final solid lifter big-block V8 ever to be offered in the Corvette and the last with aluminum cylinder heads.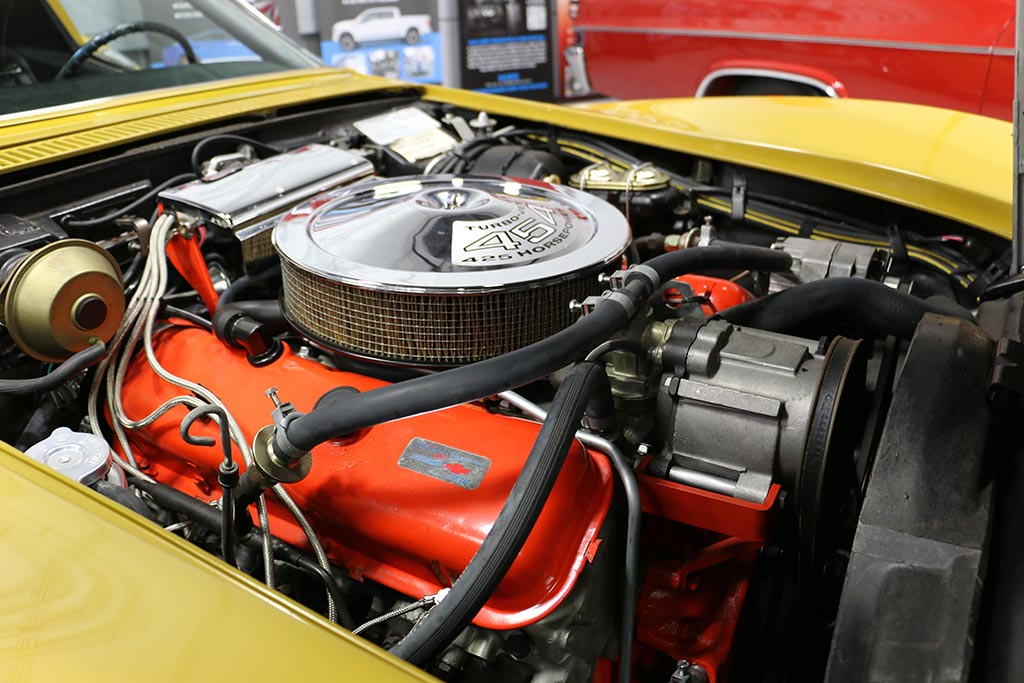 The Classic Corvette Dream Giveaway only offers the best cars and that is certainly the case with this 1971 Corvette. The fully restored Coupe is documented with the build sheet, ownership history, and restoration photos and receipts. The engine has been certified as original to the Corvette by Al Greening's Classic Car Affirmation Services. It was awarded the National Corvette Restorers Association NCRS "Top Flight" status.
Proceeds from the Classic Corvette Dream Giveaway support New Beginning Children's Homes, a 501(c)(3) organization that provides family-focused living accommodations for abused, neglected, or orphaned children. The Classic Corvette Dream Giveaway also supports a number of well-known and respected charities including Honor Flight of West Central Florida, the National Guard Education Foundation, Smile Network International, Mothers Against Drunk Driving, Detroit Rescue Mission Ministries, 4Kids, and Bright Pink.
Corvette collectors love power and rarity and this 1971 Corvette LS6 comes with both. Whether you drive it or store it away as an investment, this War Bonnet Yellow Coupe would be the centerpiece in any collection. Your donation to children and veteran charities will get you automatically entered to win. And if you do win, you'll also get a check for $42,000 to pay the winner's taxes. It's a great way to do some good in the neighborhood and maybe win a classic Corvette!
CorvetteBlogger readers receive DOUBLE ENTRIES with a minimum donation of $25 so get your tickets in this exciting new sweepstakes today!
Source:

Classic Corvette Dream Giveaway


[ad_2]

Source link