New Software Allows Shoe Shopping While Charging Your EV, Without Leaving the Car
A new third-party in-car web browser will allow drivers and passengers to watch, shop and browse all from the comfort of the driver's seat, without having to pick up a smartphone or tablet.
Vivaldi, a web browser developed by a tech company in Norway, is now available for download in the Polestar 2 electric car in all North American, European and Asia Pacific markets. Polestar 2 is the first auto to carry the browser, which could be coming to other Android Automotive operating systems in the future.
"Now there is basically no limit to the web content you can explore in Polestar 2," Polestar CEO Thomas Ingenlath said in a press release.
While only available in one car from one brand, this paves the way for Vivaldi or other third-party browsers to make their way into other cars that utilize Android Automotive OS. Many automakers are switching to the operating system as they launch next-generation in-car software technology.
Implemented over the Christmas season, the move makes Vivaldi the first independent web browser available for vehicles running Android Automotive OS.
Android Automotive is an operating system that runs directly through a vehicle's software. Its open stack, open source platform allows for a customizable infotainment interface and the use of apps developed for Android and Android Auto.
Android Automotive, though similarly named, should not be confused with Android Auto, which is a platform that runs on a user's Android-enabled phone to project apps designed for in-vehicle use onto the vehicle's infotainment system.
In the U.S., Android Automotive is installed on the 2021 Volvo XC40 Recharge. It's also available on the 2022 model year of the Lucid Air, GMC Hummer EV, GMC Sierra, GMC Yukon, Chevrolet Tahoe, Chevrolet Suburban, Chevrolet Silverado, Volvo C40 Recharge, Volvo XC60 and Volvo S90. It's coming to the 2023 Cadillac Lyriq.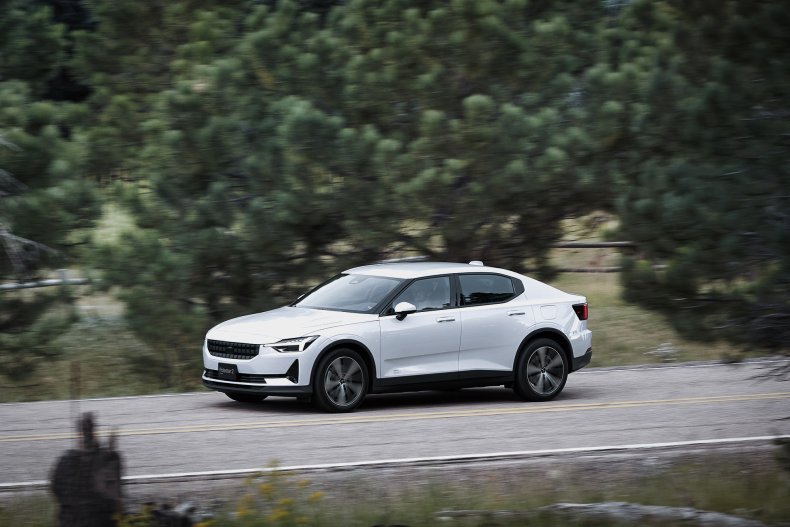 While this opens the door for wider usage of third-party browsers in Android Automotive OS-enabled cars, some automakers don't see third-party browsers coming to their products in the near future.
Though that could be subject to change given recent trends. In 2020, Apple finally allowed the use of Google Maps in Apple CarPlay after exclusively allowing Apple Maps initially.
General Motors spokesperson Stephanie Obendorfer told Newsweek that a third-party browser for Android Automotive isn't in the cards right now.
"GM is always looking to enhance and evolve the customer experience," she said "We have no plans to offer web browser capabilities for our Android Auto operating system vehicles at this time."
In 2021, Honda announced that it would start using Android Automotive in its vehicles in the second half of 2022.
When asked about the possibility of allowing third-party browsers in its future vehicles, Honda told Newsweek that they don't speculate about potential future product plans and "have not made any recent announcements related to third-party browsers."
Ford, Lincoln and Stellantis vehicles will start using the OS in 2023. In the U.S., Stellantis sells cars under the Jeep, Alfa Romeo, Chrysler, Dodge, Fiat, Maserati and Ram brand names.
For driver safety, the browser can only be used when a car is parked. When in motion, any streaming content will switch to an audio-only format. Last month, Mercedes-Benz issued a recall on 227 cars after a software error enabled drivers to play video games in the infotainment screen while the vehicle was in motion.
In a press release announcing the partnership with Polestar, Vivaldi emphasized privacy in the browsing experience, saying that private browsing data isn't stored by the car and isn't shared with Polestar. That data is shared between other devices logged into the same account.
The browser comes with a built-in ad blocker, a translation tool, tracking protection and a notes function. Encrypted sync functionality enables tabs open on one device to be carried over to another.
Available for Mac, Windows, Linux or Android, the desktop version of Vivaldi features many of the same functions, along with customization features for tabs, keyboard shortcuts and search capabilities.
As of the end of 2021, Vivaldi has more than 1 million registered accounts. On its desktop and mobile platforms, the company touts Vivaldi's customization features to set it apart from the likes of Safari or Google Chrome.
In the browser, you can use any website as a separate panel for split-screen browsing and create custom keyboard shortcuts.
A mobile version is currently only available for Android phones.
The Vivaldi team will also be providing regular over-the-air updates to the browser at the same time as the mobile or desktop versions. Vivaldi has yet to specify how exactly those updates happen.
The Vivaldi browser is currently only available to download by Polestar 2 drivers for free in the car's Google Play Store app.