Moparian Power Couple | Classic Car Restoration Club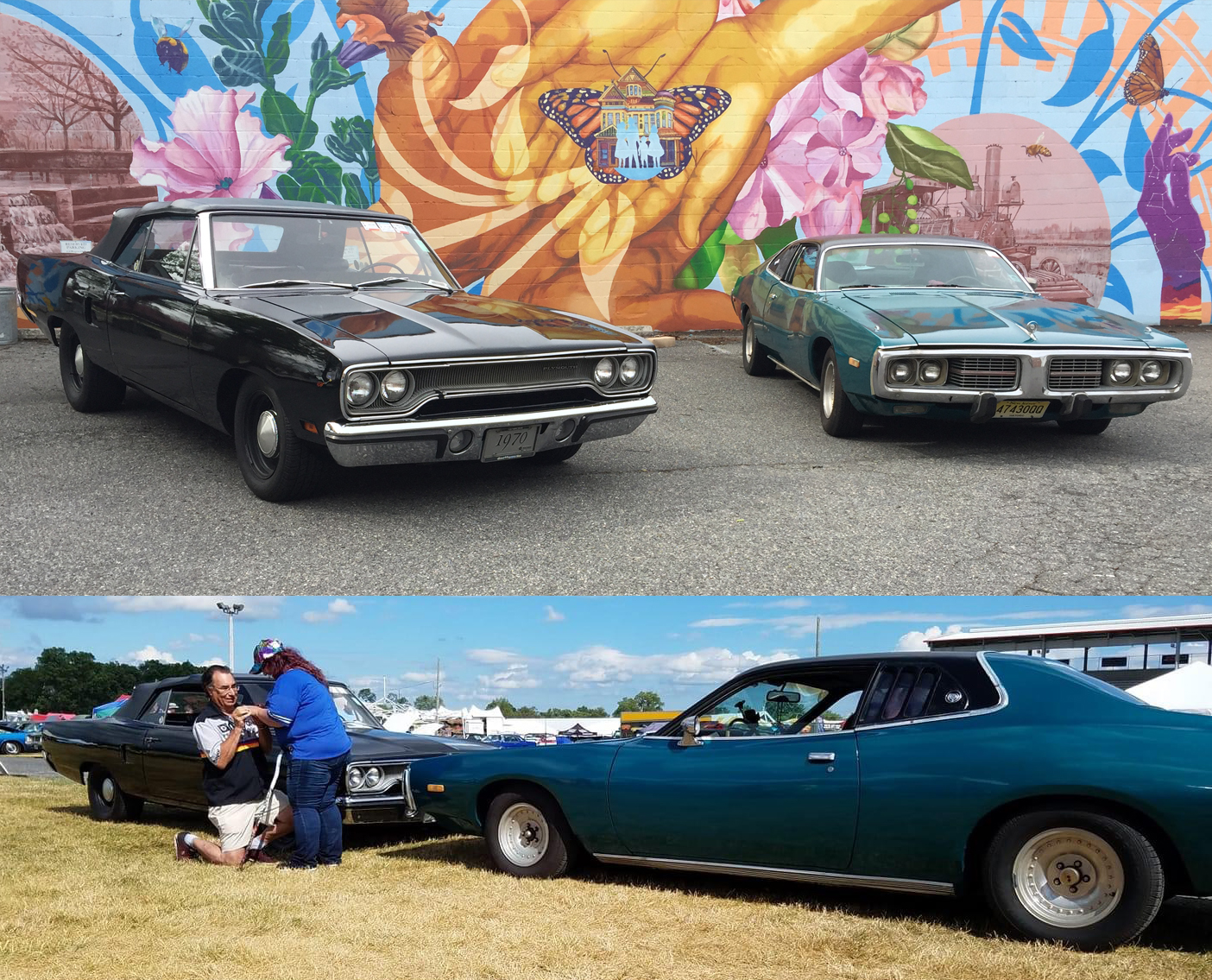 In 1996, I was dating a guy who had a '73 Charger SE sitting dormant in his driveway. When I went to his house for the first time, it was love at first sight for me. Not with him, with the car. The Charger was purchased by him in 1995 from Chrysler's at Carlisle for his ex wife who didn't want it, so in his driveway it sat until I came along. I was captivated by the curves and sleek lines of this big green "coke bottle" B-body, and regularly sat behind the wheel before she was revived. The original engine was a tired 400, but prior to meeting me, he replaced it with a 440 Magnum that didn't roar to life without my "encouragement". Once the car was running, that sealed the deal for me.
On Christmas morning, 1996, I woke to an envelope under the tree that contained the keys, accompanied by his statement, "You have a fire behind your eyes that I've never seen when you sit behind the wheel of that car, she's yours.".
My life as a Moparian had just begun, rebuilding the engine, putting her back together and undoing her past being used as a parts car. I learned the ropes of driveway mechanics 101 with jack stands, drop lights, pizza with greasy fingers, and knuckle busters along the way, earning me the nick name of Mona Lisa Vito of My Cousin Vinny fame. She was an out of work hair dresser, I'm a beauty school drop out. My dream of fixing cars started when I was 11 years old with the movie Better off Dead after seeing the little French girl fix the Camaro. I wanted to be her, because John Cusack's character called her remarkable. I dreamed of having a life partner to work on cars with, but it was many years before that happened.. Meanwhile I was happy with the occasional street race, and quarter mile drag at the track.
My first long trip with my Charger in 1997 was a 16 hour drive to the Mopar Nationals at Indianapolis Motor Speedway in an "Attitude Line" with a '73 and a '72 Cuda. While I was there I got my first taste of the Mopar scene including late night street corner burnouts with excited crowds dumping water coolers and cheering on the wildest rides. John Schneider signed my dash making that one of my favorite celebrity meeting stories.
By 1999, the man who gave me this car and I parted ways, but my relationship with my 73 Charger SE continued to flourish. In the last 24 years because of this car I have met the most wonderful people and had the most incredible experiences including being picked to be featured on the discovery channel for a TV series that had one season called Sticker Shock. The episode was named, "The Well Loved Charger", for good reason. I was featured in Cruisin' Magazine, and also interviewed on Rapid Transit Radio WVLT in Vineland NJ, and an article about women who work on cars was done by a local photographer about me. My determination dedication and perseverance with this car has been misunderstood by those who are not in the car hobby circles. In my search for love I was married and divorced twice which proves the theory that needed to be with my own kind, especially since neither one of my ex-husband's were car guys.
Over the years I very proudly kept this car going on my own, but not without the help of friends and very tight knit Mopar family. There was about a four-year span where my car was again dormant due to the fact that I myself was experiencing health issues that put my body out of commission and not able to work on the car. At the time I was also living in an apartment where the landlord did not tolerate having the car parked on the property, but a local garage (Superior Auto) was kind enough to let me park the car there free of storage charge. At the same time, a man and his brother-in-law drove by and saw my car sitting at that mechanics garage not knowing who I was or who owned it. My car turned his head because he is a full blooded Moparian, owning and maintaining a rare 1970 Plymouth Road Runner convertible for 41 years, as well as other Mopars in the past.
On July 13th, 2016, I was on my way to bringing both myself, and my car back to life. I made a post on a Mopar page on Facebook requesting assistance with my carburetor, and the man who was curious about my car was one of the first to respond realizing later it was in fact my car that he saw. A Direct Connection was made (pun intended), and we became fast friends. At the time I was at the end of my second marriage (again, not a car guy, big mistake), my friendship with this man evolved after my divorce into the healthiest, happiest relationship I've ever experienced.
Both my car and I have gone though many changes, and ups & downs. As my health , and life environment improved, I was able to finally have paint and body work done, erasing the damage time and the elements caused from not being garage kept since 1999. She's been the only positive constant thing in my life until recently, and my most successful accomplishment.
On Saturday July 11th, 2020, the owner of the rare 70 Road Runner convertible, friend turned lover, Richard Mastriano proposed to me at 4:40pm on the Chrysler Nationals show field, in Carlisle PA. We were surrounded by beautiful classic and modern Mopars, as well as our Mopar Family, with both of our long time trusted car companions as our back drop. It was a long crazy road, but my 73 Charger brought us here, all the way back full circle from Carlisle PA, to NJ, Indianapolis, California, and back to Carlisle, from 1995 to today. My 73 Charger SE (Holley), Richard and his 70 Road Runner and I have finally won at the game of life. To be continued…