Mercedes-AMG reveals 1,063hp One hypercar
[ad_1]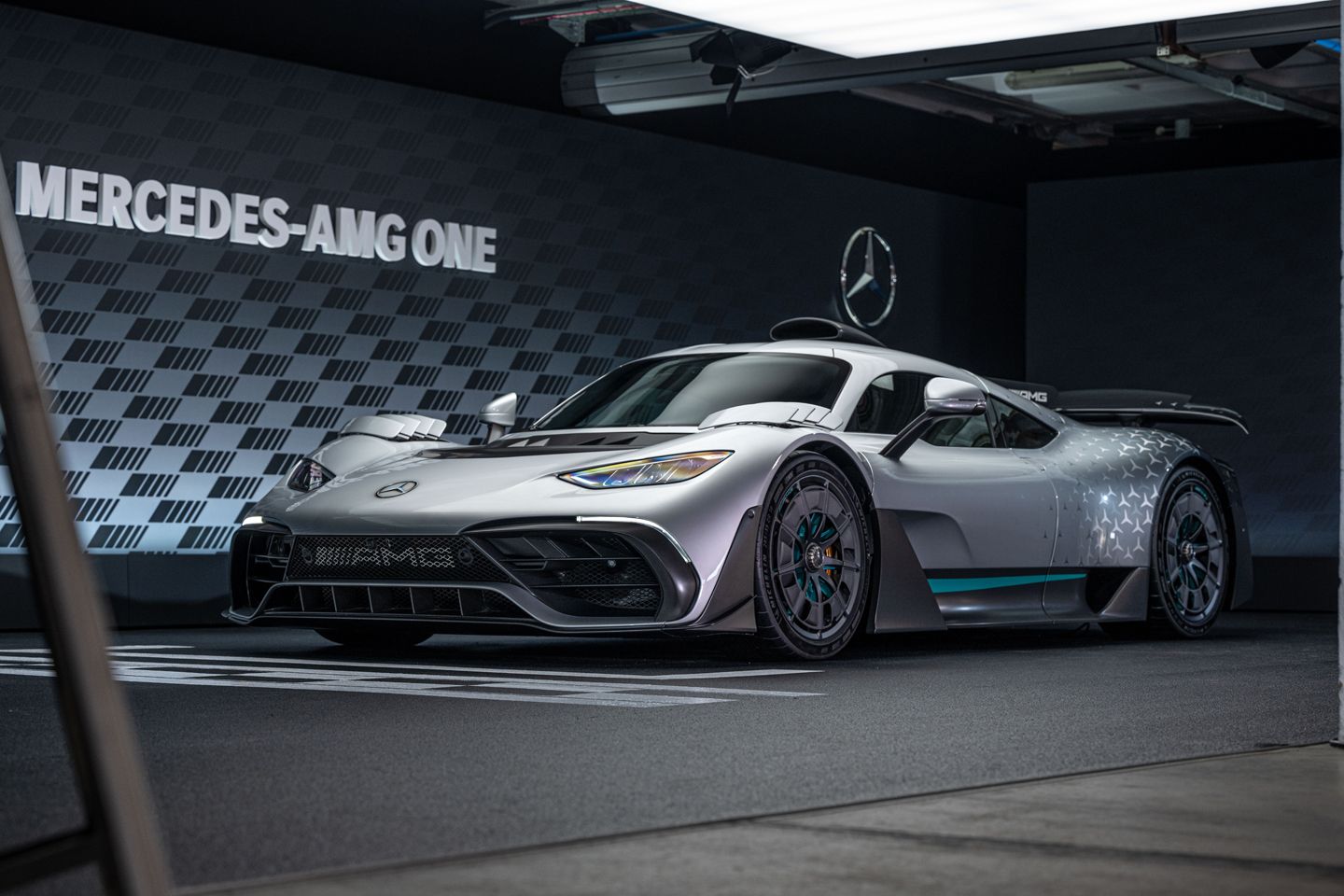 In a world of 300mph Bugattis, 2,000hp EVs and 9,500rpm Ferrari V12s, it can feel like the hypercar world has given all it has to give. AMG, hopefully to the delight of car nuts the world over, thinks otherwise; just in time for its official 55th birthday, this is the AMG One. The hypercar which gets an F1 powertrain – it's finally here.  
We must talk about the engine first, of course. The integration and calibration work needed to install a Grand Prix-worthy hybrid V6 into a road car seemed an insurmountable challenge – "many may have thought that the project would be impossible to implement" said Philipp Schiemer, AMG Chairman – but the firm has finally succeeded. The One is powered by a 1.6-litre turbo V6 that revs to 11,000rpm as well as four electric motors, the two up front making that axle entirely electrically powered. Maximum output is 1,063hp, with 574hp of that coming from the combustion engine. Or, er, 359hp per litre. That's then bolstered by the 163hp motor on the crank (MGU-K, or Motor Generator Unit Kinetic), those front motors that make 326hp (MGU-FL and MGU-FR, Motor Generator Front Left and you can do the other one), plus 122hp from the motor of the electric exhaust gas turbo. That's known as MGU-H, or Motor Generator Unit Heat. If you love Formula 1 tech, you're going to love this AMG.  
Furthermore, if you just like hypercars with crazy engines and wild performance, the One ought to tickle your pickle as well. The engine itself is simply unprecedented for a road car; its dimensions (80mm bore and a tiny 53.03mm stroke) are just unheard of, making peak power at 9,000 and revving to 11,000rpm, helped by pneumatic valve springs. Lower than the F1 car, perhaps, but then this will last longer. And run on Tesco Momentum. The electric turbo means torque at low revs (though AMG hasn't released a number) and a heavily boosted V6 (the turbo runs up to 3.5 bar) that "responds even more spontaneously to accelerator pedal commands." For once it's arguable that the extraordinary performance – 0-124mph in seven seconds, 0-186 in 15.6, a limited 219mph top speed – aren't the biggest stories. It's about how it all works.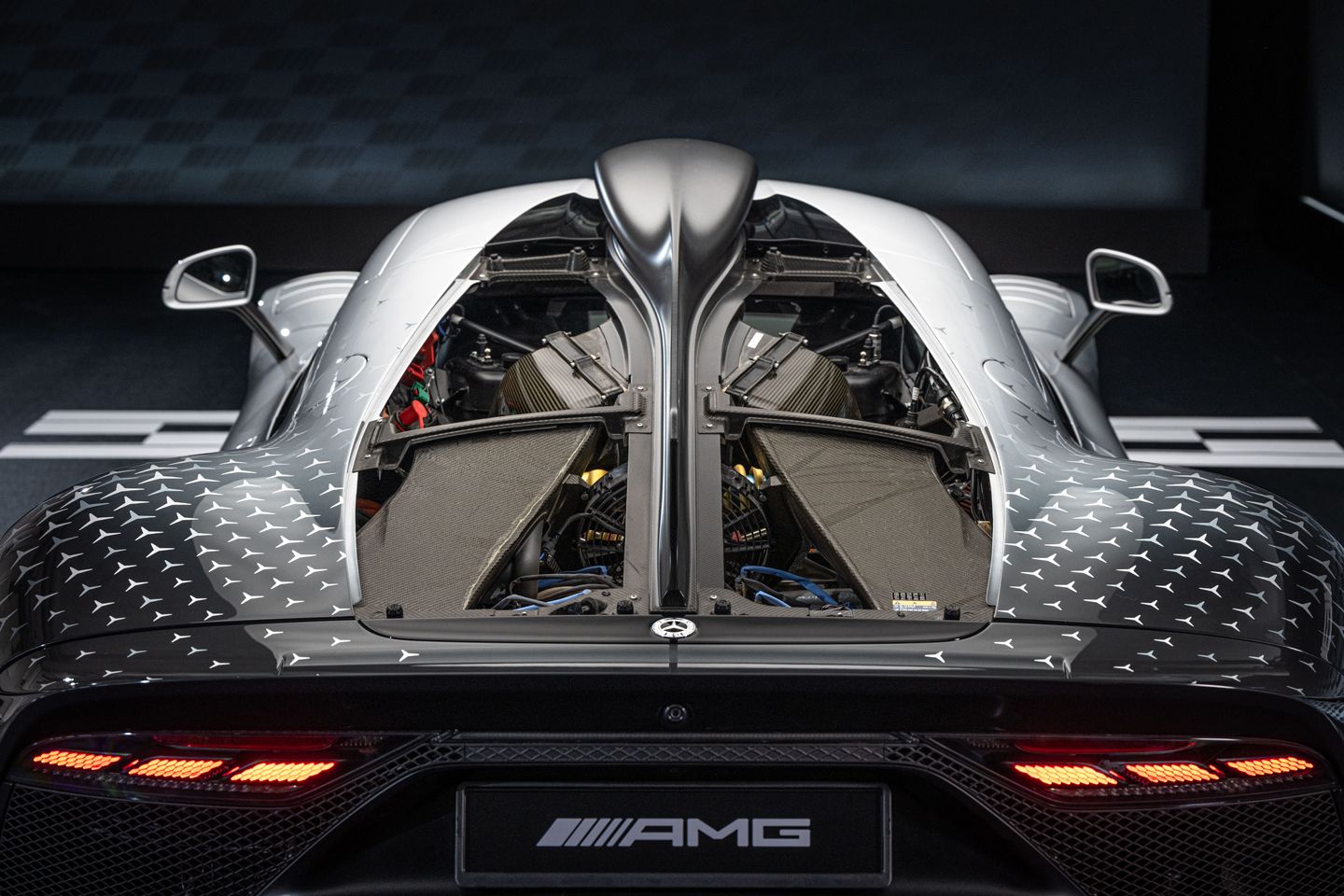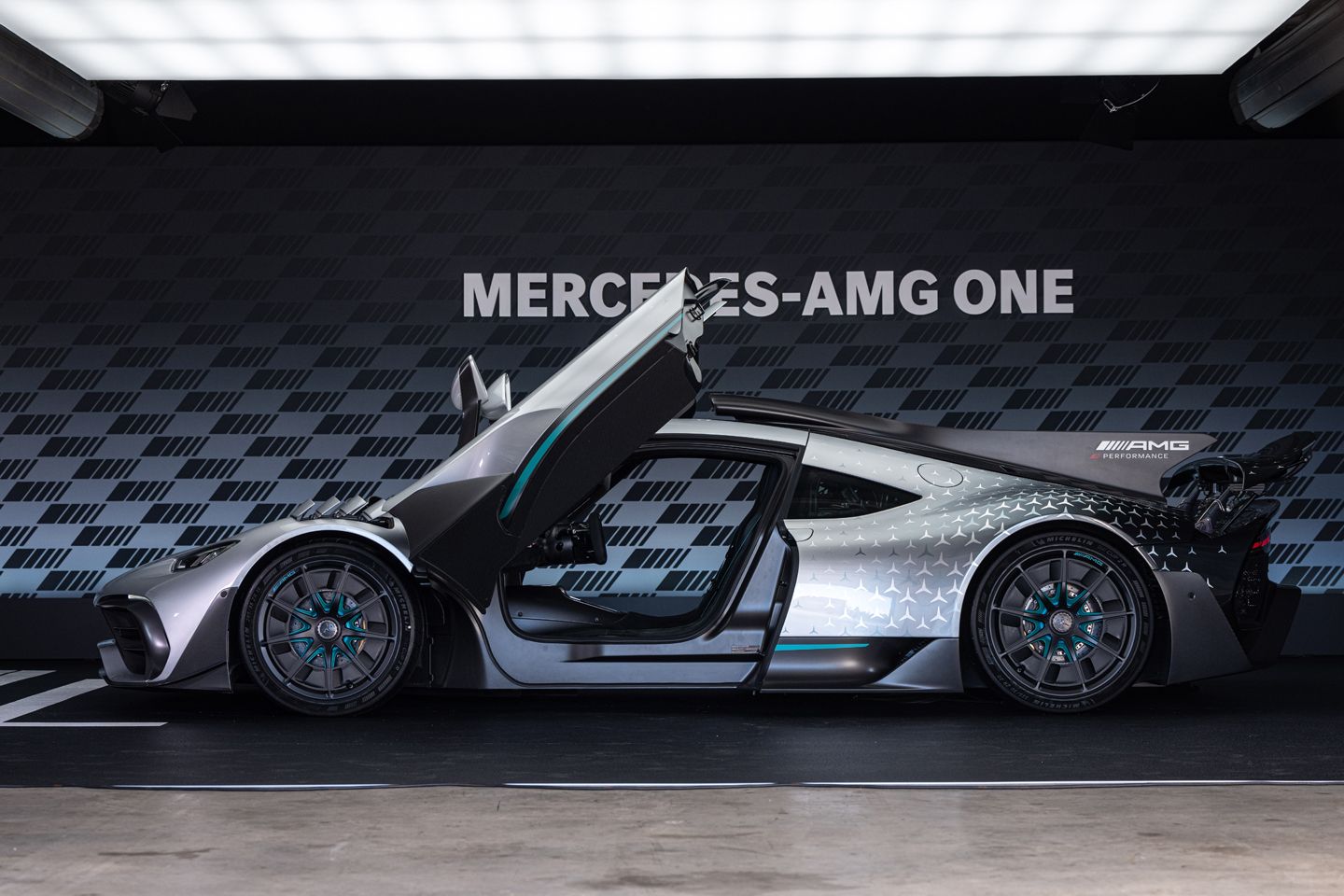 The One combines the electric, torque-vectoring front axle with hybrid rear under Merc's familiar 4Matic+ all-wheel drive moniker; there's pure electric range of 18km, which ought to draw some attention in low emission zones. The power reaches the wheels via an all-new seven-speed automated manual – not a phrase we expected to write here – specifically developed to be light, small and able to manage all that torque, with the locking diff included as part of the package. AMG says the ratios "are designed to minimise the power difference after upshifting and keep the combustion engine at high revs". Well if you are going to put a Formula 1 V6 in a road car, best keep it front and centre of the experience… 
The electric bits collaborate with the engine via six drive settings. The One will start as an EV, with four of the six (!) catalytic converters pre-heated. Only once that four are up to temperature will the engine get going. 'Race Safe' is your everyday electric mode, only engaging the V6 when more performance is required than offered from the front axle motors. There's a dedicated EV mode, too, though obviously with just 18km available that won't last too long; somebody cleverer than us will confirm whether that's just front-wheel drive, too.
Race is a road-suitable hybrid drive mode, running the engine in a way that keeps the battery topped up. An Individual preset familiar to every owner down to A45 allows One drivers to configure their favourite bits of the road set up, such as the adaptive damping and ESP threshold. Then it gets really good: Race Plus and Strat 2 are for circuit only; the former lower the front end by 37mm, the rear by 30mm, engages the active aero and promises "special performance management." Crank it all the way to Strat 2 and you get even firmer suspension, a DRS setting for the aero parts and "full power from all motors as in Formula 1 qualifying." Which sounds pretty cool.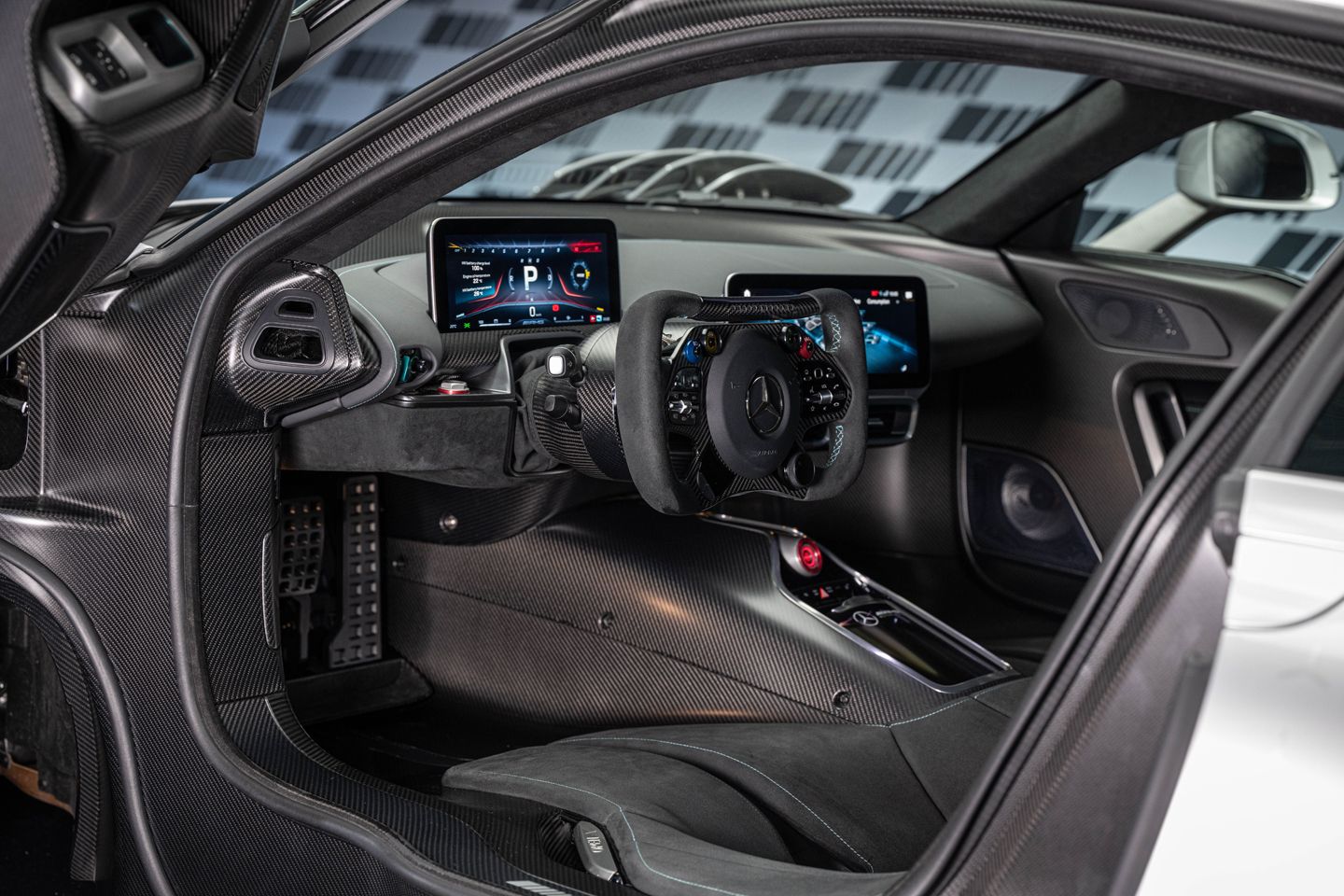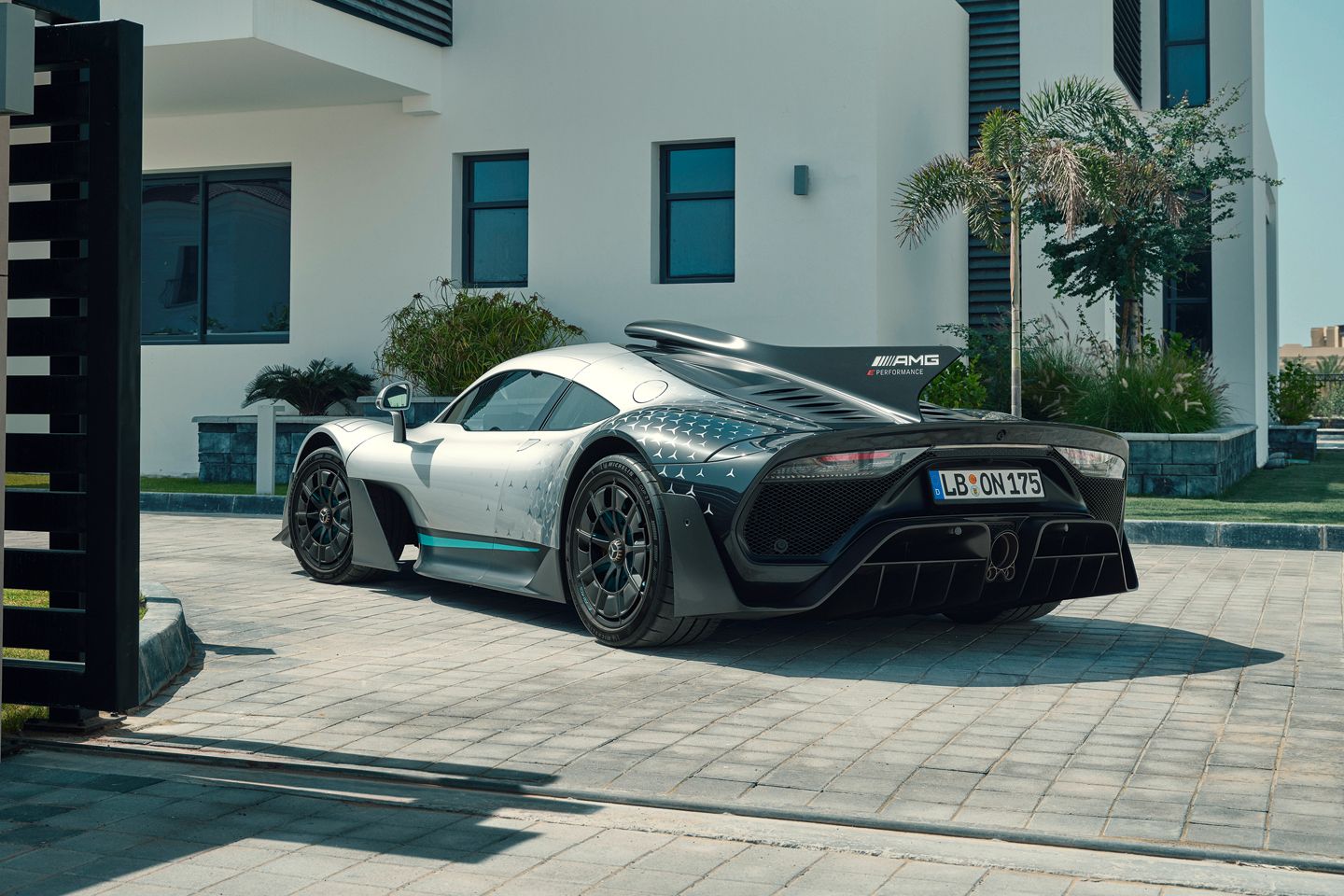 It's worth mentioning the batteries just quickly, too. Like the recently launched GT63 S E Performance, AMG is promising great power density from the One. The F1 link isn't lost, either, with the 8.4kWh of cells arrange in way that apparently  mirrors the race car. The new battery tech means that its maximum power can be called on time after time without a drop off in performance, and that the weight is lower than the norm. The battery is charged by alternating current, the integrated 3.7kW onboard charger, brake recuperation or the V6. The One gets AMG's new direct battery cooling infrastructure, too, with coolant keeping every single cell at an average of 45 degrees; apparently the clever cooling is what permits the high power density. An 800-volt drive system rather than the 400-volt architecture normally used means even the cable diameters can be reduced, saving further precious weight – AMG claims a DIN kerbweight of 1,695kg. Or 10kg less than a CLA45 Shooting Brake. 
The rest of the One package, if familiar hypercar fare, does seem awfully normal by the standards of that remarkable powertrain. It's built from a carbon tub, with engine and transmission both load bearing; the coilovers with adaptive damping use adjustable push-rod spring struts fitted across the direction of travel, which keeps roll stiffness and damping free from lift stiffness and damping (it says here); the ceramic brakes are, of course, huge – almost 400mm for each axle – and the tyres on the forged magnesium wheels (an option surely every buyer will tick) are about as aggressive as it's possible to get for a road car: a bespoke Michelin Pilot Sport Cup 2 R. Interestingly AMG has provided no information about the One's steering yet – a 'not specified' sits in that section of the technical data, along with the turning circle and payload. But there is a front axle lift for particularly tricky kerbs. 
All of which should cover what we didn't know about the 1,063hp AMG hypercar; the finished look is certainly recognisable from that original 2017 Frankfurt jaw-dropper. Which might easily also be said about the Aston Valkyrie, too – fiercely complex hypercars are not the work of a development moment, and design updates aren't as important as, y'know, making four electric motors and a turbo V6 work seamlessly. That said, the One isn't going to pass you by unnoticed on the road: the "fascination and function" look, with the cockpit forward, waist pinched and tail wide seeing to that.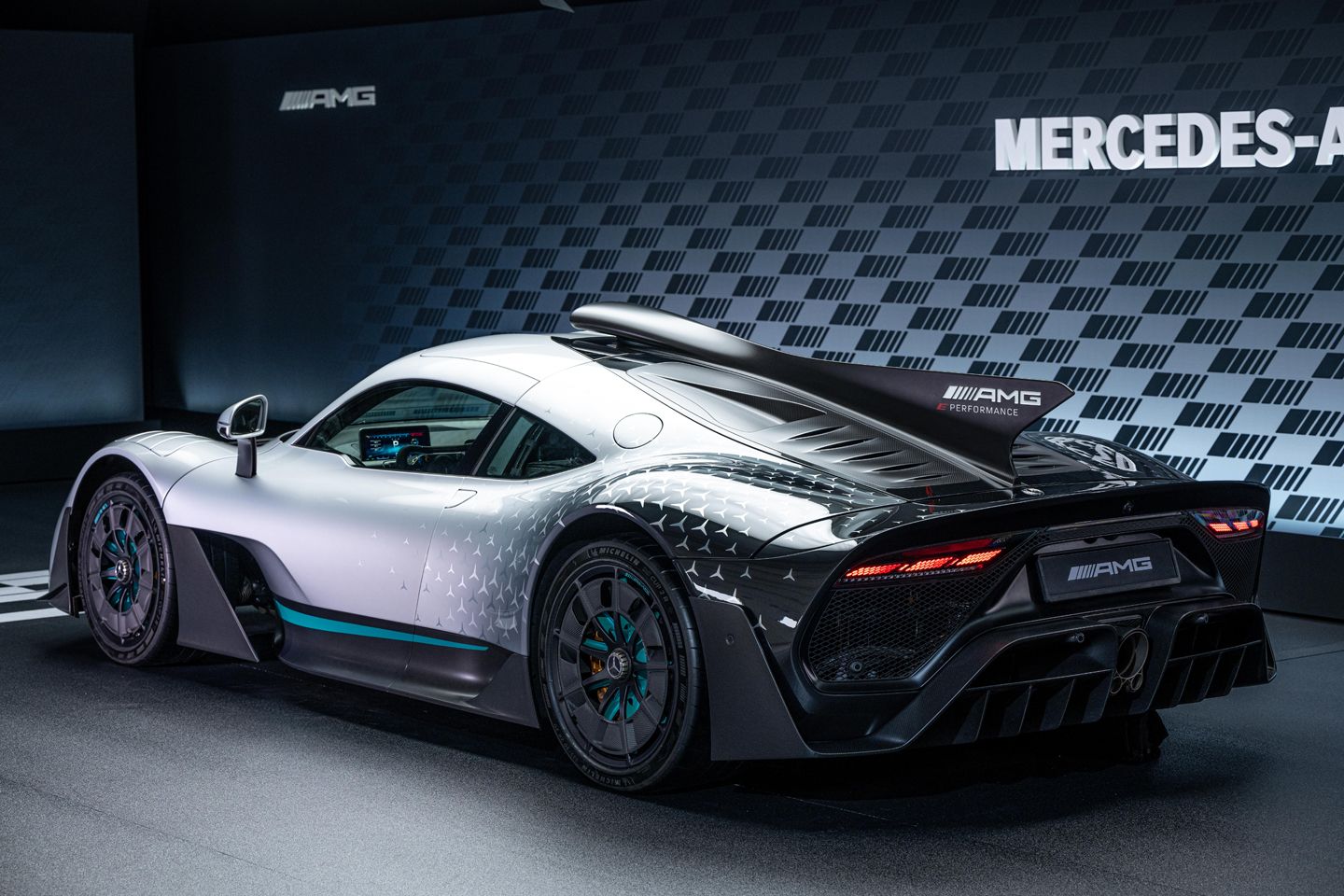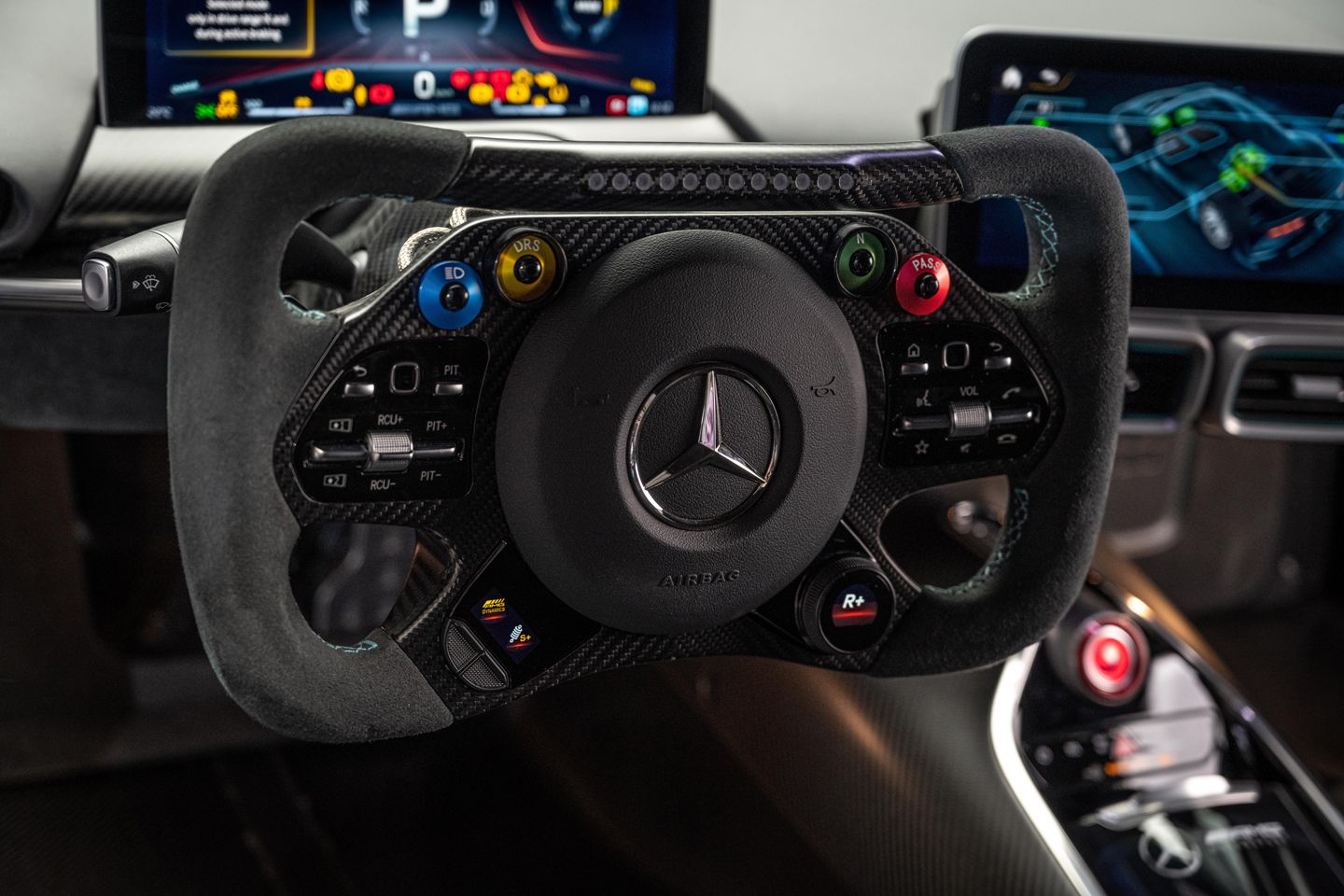 The interior is a fascinating amalgamation of the race car – look at that steering wheel! – and uber AMG, with a pair of 10-inch screens, metal switchgear and a natty rear-view camera. There's plenty of yellow stitching, too, linking the One back the rest of the AMG range that, um, all actually have bigger combustion engines if they aren't BEVs. The cockpit is called "Formula 1 for two", which might be stretching it a tad, but then this is also a world away from anything else with a three-pointed star on the wheel. You don't normally get an adjustable pedal box in a Benz, after all, or a structural centre tunnel, or carbon door cards, or a "double-nozzle ventilation unit suspended under the centre screen like a gondola"…
So, in a few thousand words less than the press release, that's the One. Worth the wait? The 275 buyers are soon set to find out, with AMG seemingly grateful for the patience as well: "To put such a hypercar on wheels is certainly unique. This applies to us as Mercedes-AMG not only from a technical point of view, but also in terms of the close exchange with our loyal customers. Together with us, they have gone through ups but also downs in the course of development. They were an integral part of Project One from the very beginning and can now look forward to the highly exclusive and unique Mercedes-AMG One", added Schiemer. It really is raring to go, right down to the official rating of 198g/km and 32.5mpg on WLTP. The hypercar we never thought could happen is finally here – it'll probably be quite something to drive, too. 
[ad_2]

Source link