Honda CR-Z | PH Used Buying Guide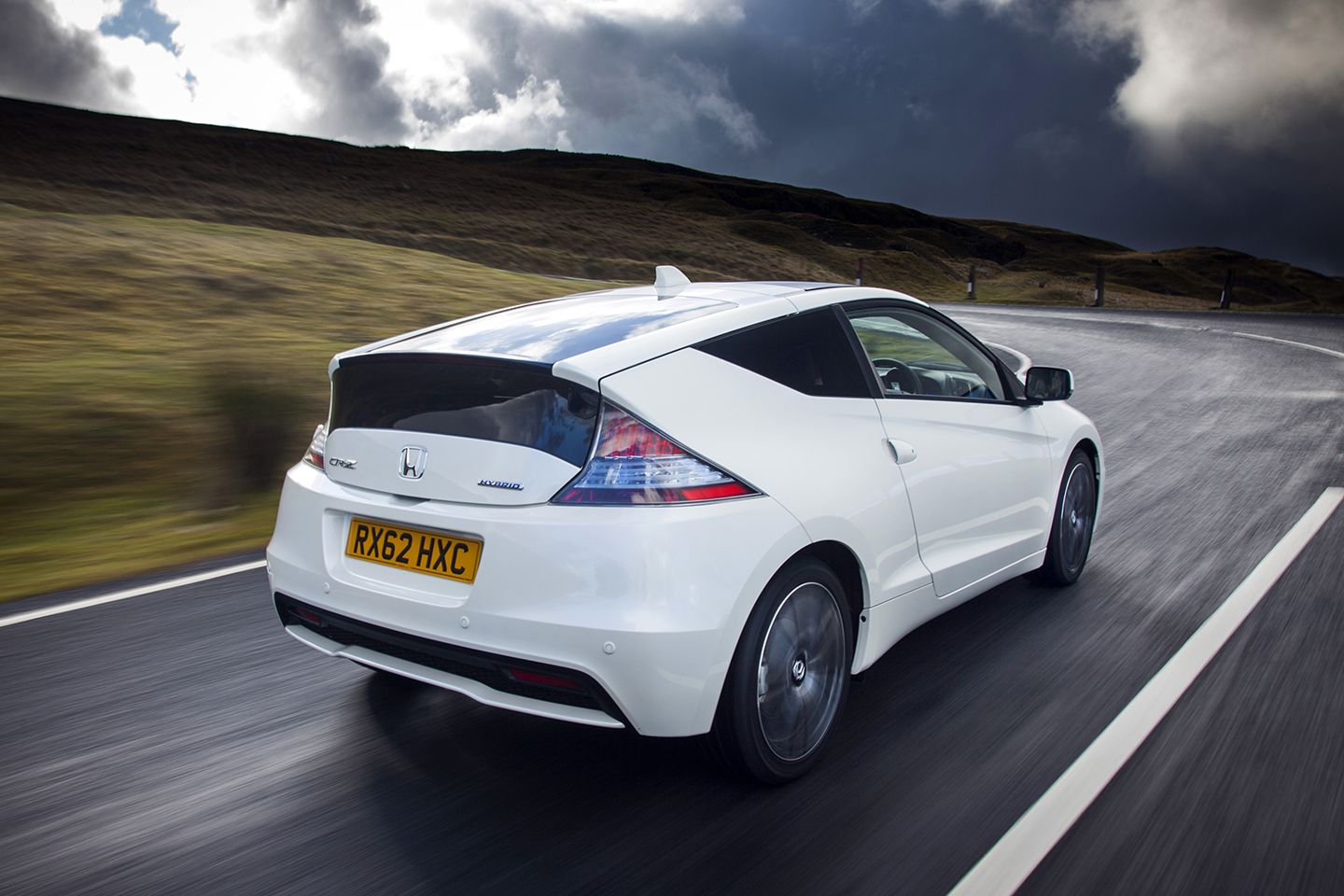 Key considerations
Available for £3,500
1.5-litre, four-cyl petrol with IMA electric assist, front-wheel drive
Not the best-handling or the fastest coupe you'll see…
… but they're characterful, reliable, and cheap to run
2013-on cars stepped up to lithium-ion batteries…
… but UK CR-Z sales stopped in 2014
What was the world's first hybrid sports coupe? Well, according to Honda it was the 2010 CR-Z, but many of those who remembered the fizz and sparkle of the gen-two VTEC CR-X reckoned that CR-Y would have been a more accurate name for the new car.
Why? Because they felt cheated. The core motor of the new Z was a single-cam 1.5 four-pot with just 112hp at 6,100rpm, and 107lb ft of torque at 4,800rpm. Yes, the electric motor added 14hp and 58lb ft to that, but enthusiasts were still glumly looking at the CR-Z's 124mph top speed and a 0-62mph time that only just scraped into the nine-second bracket – not the sort of stats they wanted to read.
The electric motor was described as an assistant to the transversely mounted 1.5-litre petrol engine rather than a potential alternative for it. It was powered by an underfloor battery pack that was charged up by regenerative braking. There was no plug-in facility and the CR-Z couldn't run on electric power alone. The compactness of the drivetrain design allowed Honda to keep the CR-Z's weight nice and low at under 1,200kg, which some thought was just as well given the amount of poke on tap.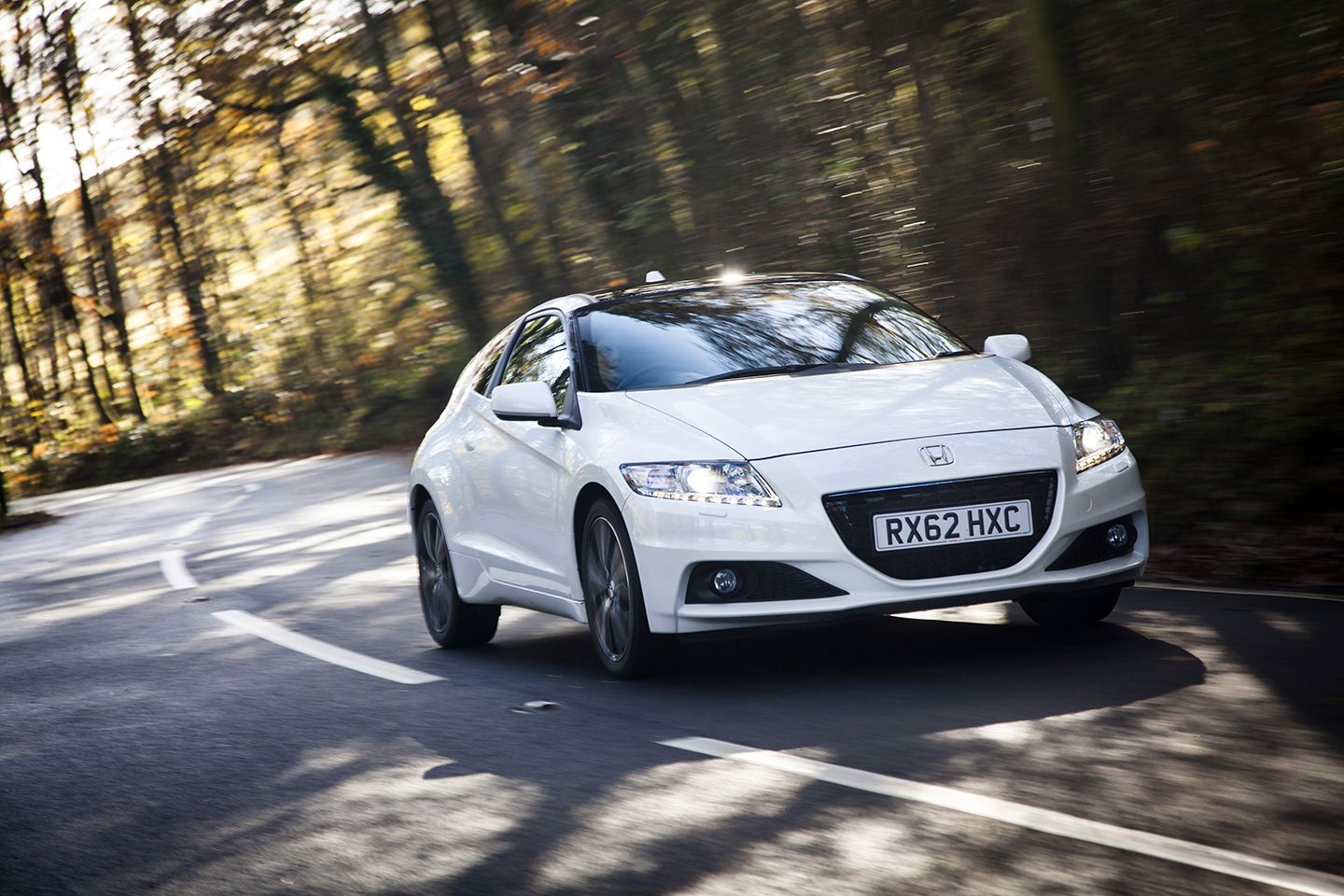 The Honda was unusual for an early hybrid in that it had a manual gearbox instead of the more common automatic or CVT transmission. A CVT version was available in the US from the start but never (officially) in the UK. Four trims were on offer: S, Sport, GT and GT Nav. Bottom spec S cars were rarely bought in the UK. Sport was a smarter choice as it came with a good spec – parking sensors, 16in alloy wheels, climate control, cruise, automatic wipers and a USB socket. The GT's bigger wheels didn't help the ride (of which more later) or the running costs.
Production of the two-door coupe began in early 2010 and ended in 2016, by which point the CR-Z had 130hp, but it was two years too late for the European market which had waved goodbye to it in 2014 as a result of poor sales. The 2013 switch from nickel-metal hydride to lithium-ion batteries allied to improvements to the electric motor makes cars from this year and 2014 the ones to look for now – if you can find one at the right price. They're more sought after and therefore more expensive. As a quick check, cars with an S+ button on the steering wheel should have the L-ion batteries.
You could pick CR-Zs up very cheaply not so long ago, but values have been firming up of late as buyers have noticed the car's low running costs – 60mpg potential and £20 a year tax. Nowadays you'll be doing well to find a sub-100k miler for under £4,300. We did spot a lightly damaged 74,000-mile car up for auction, with no bids in place on the last day despite the starting price of £1,700, but the cheapest intact ones now start at £3.5k and for that money you will almost certainly be looking at 150,000-milers. Cars with under 40,000 miles are routinely being priced at £7,000 or more, and really low milers are being advertised at over £10k. We'll link you to one of those, and a few others, at the end of this article. 
SPECIFICATION | HONDA CR-Z (2015-on)
Engine: 1,497cc inline four, SOHC, 16v plus electric motor assist
Transmission: 6-speed manual, front-wheel drive
Power (hp): 112@6,100rpm plus 13hp electric
Torque (lb ft): 107@4,800rpm plus 58lb ft electric
0-62mph (secs): 9.9
Top speed (mph): 124
Weight (kg): 1,147
MPG (official combined): 56.5 ?
CO2 (g/km): 117
Wheels (in): 16
Tyres: 195/55
On sale: 2010 – 2014
Price new: from £17,325
Price now: from £3,500
Note for reference: car weight and power data are hard to pin down with absolute certainty. For consistency, we use the same source for all our guides. We hope the data we use is right more often than it's wrong. Our advice is to treat it as relative rather than definitive.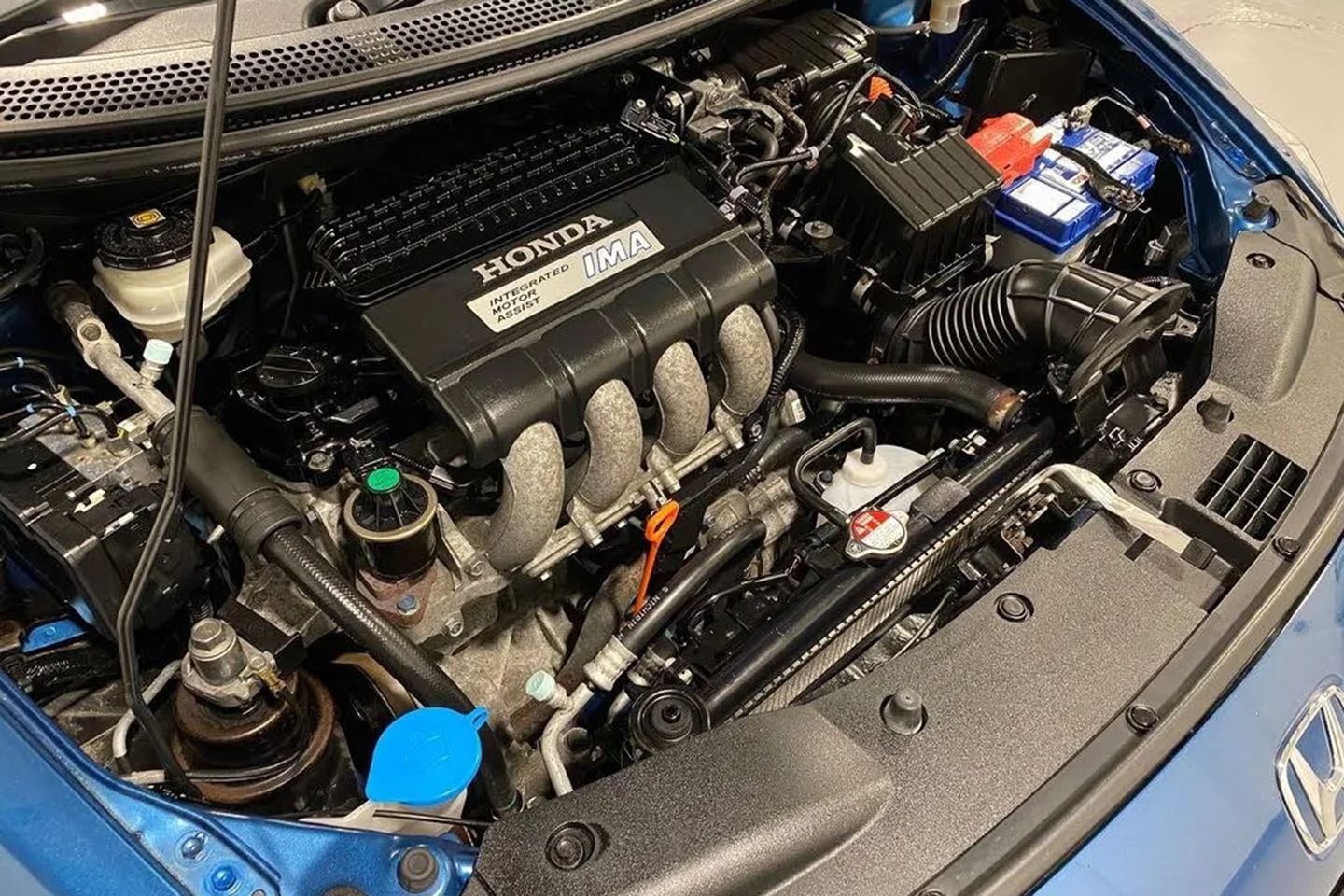 ENGINE & GEARBOX
For the poorly informed or ultra-stingy, 'hybrid' can mean the same as 'servicing is optional', especially when there's a Honda badge somewhere on the vehicle. It's a compliment to Honda that people think they can more or less ignore maintenance on their products, and in fairness the CR-Z's i-VTEC 1.5 four-cylinder does live up to this image. It's no ball of fire but it is tolerant of inattention. At the very least though you should refresh the oil and filter every year or every 12,000 miles. A loud tapping noise means the valve clearances need adjusting. There's no cambelt to change but you should check if and when the spark plugs have been renewed as getting to them isn't easy.
The light and snicky 6-speed manual gearbox is known for being just as trouble-free. Clutches will eventually start to slip but generally this only happens on very high-mileage cars. Even Honda can't make everlasting drivetrains. If on the other hand something goes wrong with the CR-Z's IMA battery, that's not something that every local backstreet generalist will be able to sort out. The main IMA battery unit was guaranteed for five years or 90,000 miles, so even the newest CR-Zs are out of warranty now. At one point Honda dealers were quoting £1,000 or so plus fitting costs for a new IMA battery, but more recent indications from the US are that it may be at least twice that in reality. Still a lot cheaper than replacing the cells in a full EV though.
In fact, nothing much does go wrong with the IMA battery. The cooling fan for it won't last for ever but major IMA battery failure has not been a particular issue. As of August 2021 (the most recent data we have) only three members of the CR-Z owners club had had to replace their IMA batteries. Obviously, the frequency of that happening will increase over time, but in the real world it's the CR-Z's other smaller battery that you have to monitor. This one lives under the bonnet and its main function is to initiate the start procedure which is carried out by the IMA battery and the electric motor, unless the IMA batt is completely dead in which case the under-bonnet one will/should step in to save the day.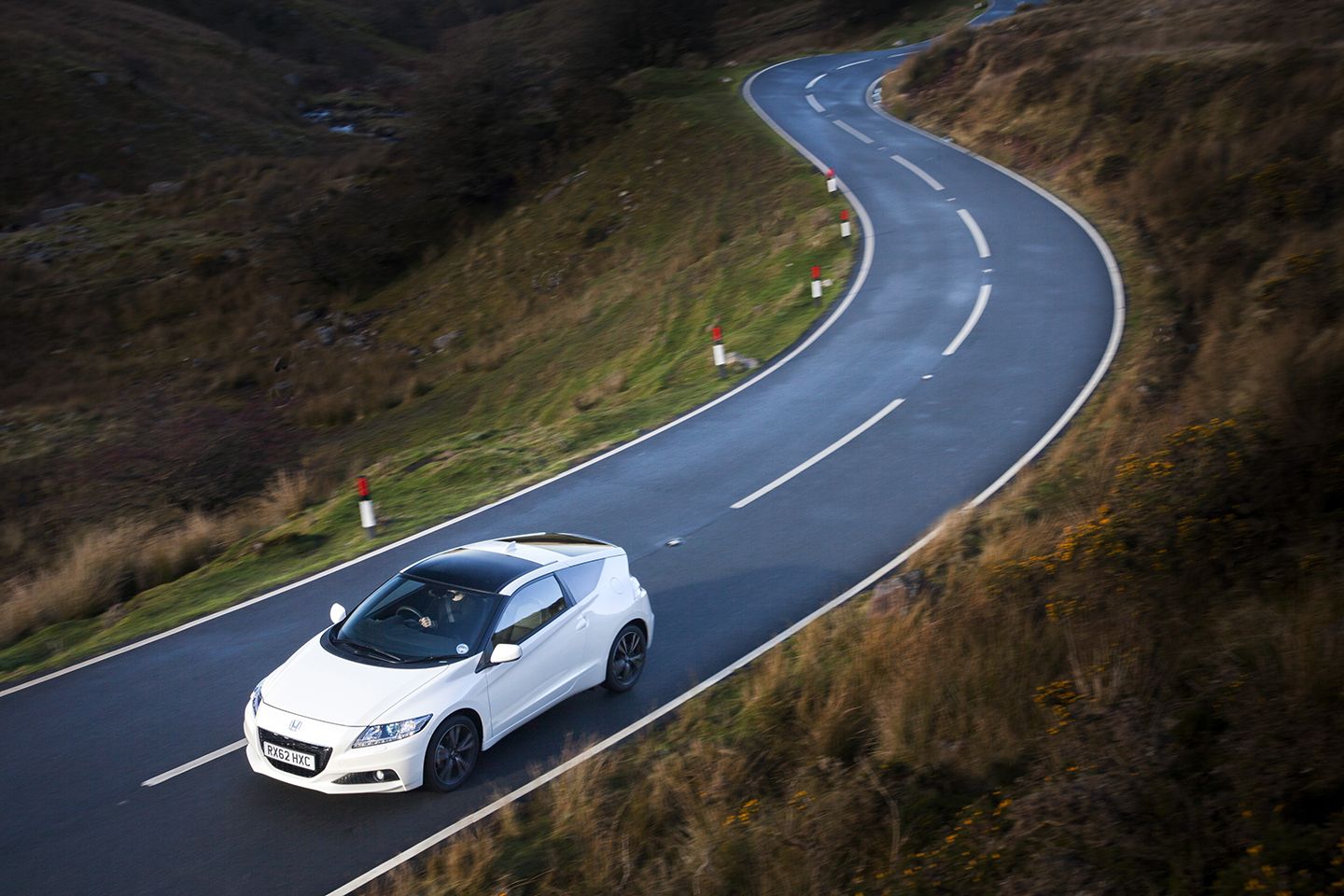 Quite a few of these smaller batteries have had to be replaced, and more often than owners might have expected. If a raft of warning lights suddenly comes up, not just for things like hill assist and traction control but also for the IMA battery, it is highly likely to be the smaller battery that is responsible. If you're not using the car every day it's a good idea to keep it on a trickle charger. A Honda sticker under the CR-Z's bonnet tells you to drive your car at least once a month to keep the IMA battery healthy. The battery warning light should disappear as soon as the car starts. If it doesn't. it's telling you something's wrong.
You should take any prospective purchase on a decent test drive to make sure that the battery is being recharged and that the three drive modes (Sport, Normal and Econ) are all working as they're supposed to. In case you were wondering, yes, the CR-Z will run on its IC engine alone but if the IMA system isn't working properly the small under-bonnet battery won't receive a charge, so you'll end up calling for assistance.
CR-Z servicing costs will be a little higher than those for a mainstream car of comparable size but not so much higher as to be a source of worry, and anyway you'll be saving on general running costs. Stop-start systems weren't as common in 2010 as they are now but the CR-Z had one, contributing to the car's low CO2 rating of 117g/km and its official combined fuel consumption figure of 56.5mpg. Driveshafts do fail and are not cheap to replace.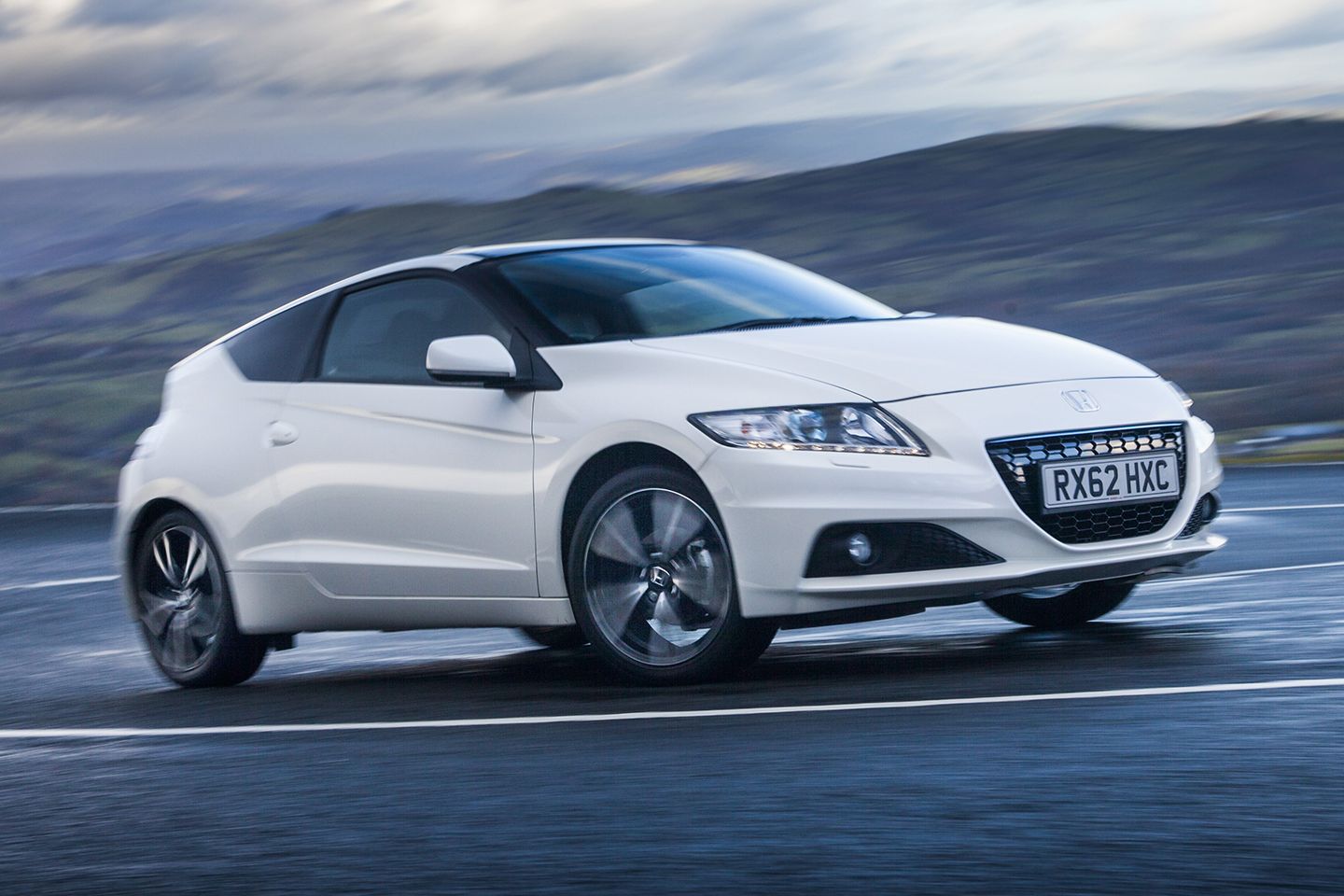 CHASSIS
One of the most obvious ways of keeping weight down in a car is to remove some of the stuff that makes it civilised to drive, i.e., soundproofing and the like. This approach means there'll generally be more noise to put up with. Ride quality will suffer too if your lightweight vehicle is not expensive enough to warrant the inclusion of specialist suspension components.
Which is a long-winded way of saying that the 1,200kg CR-Z will zip along a B-road nicely enough, with good feel from the steering, but don't expect it to be particularly quiet or plush. The ride was hard, and the lightness combined with the un-special suspension and less than sticky tyres meant that back-end skip was your companion on wet, bumpy roads. If you set your driving expectations at a realistic level, exactly as owners of gen-one Insights had to, the CR-Z's chassis imperfections could easily be viewed as part of the car's character.
One noise that wasn't on new CR-Zs but that might make itself known on used ones will be a degree of knocking from worn suspension bushes. Rust is a silent assassin that can be a problem on any Japanese car. Uncared-for CR-Zs tend to rot from the rear. Make sure that the chassis legs in the engine bay are straight.
Even on standard componentry, the Honda's brakes don't usually suffer from high wear rates, another benefit of low weight. One owner reported that there was still life left on his original discs and even the pads (!) at 90,000 miles. ABS modules can fail. The CR-Z isn't often seen on UK track days but American owners happily track them, fitting coilovers and upgraded brake pads.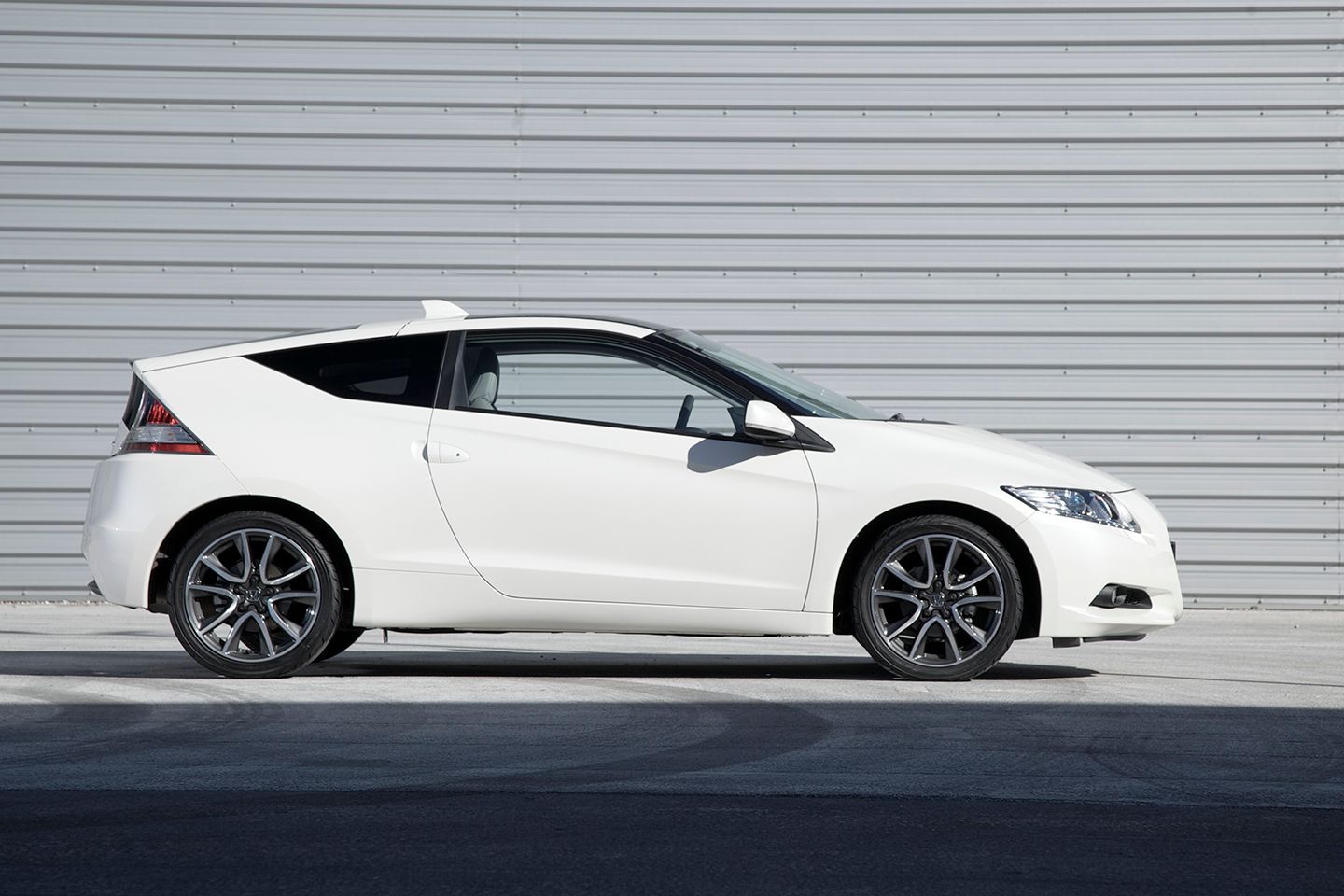 BODYWORK
Most CR-Zs came in neutral colours like black, white or silver, but you'll come across the odd blue or CR-X-aping red example. One of the most distinctive aspects of the CR-Z was its double-glassed back end, an homage to the original CR-X, but the price you paid for that was fairly shocking back-end visibility in the wet when the upright section of glass below the spoiler clagged up with no means of clearing it other than by wiping it with a cloth. That wasn't much of an option on the M1. Rear parking sensors were standard on the mid-spec Sport and top-spec GT cars that make up the vast majority of the cars you'll find in the UK, but as on many other cars these would eventually give up the ghost, especially if the back end of the car had had a biff.
The tailgate lock has a bit of a reputation for failing and the door actuators are well known for giving up. If you live in a warmer climate, opening the doors from the outside could become a bum-squeaking exercise as the thermoplastic door handles could get progressively more difficult to open before eventually refusing altogether and/or snapping off in your hand. In fairness this problem was much less common on later cars.
Tyre pressure monitoring sensors conk out but that can be taken as a general statement of motoring fact rather than a specific CR-Z accusation.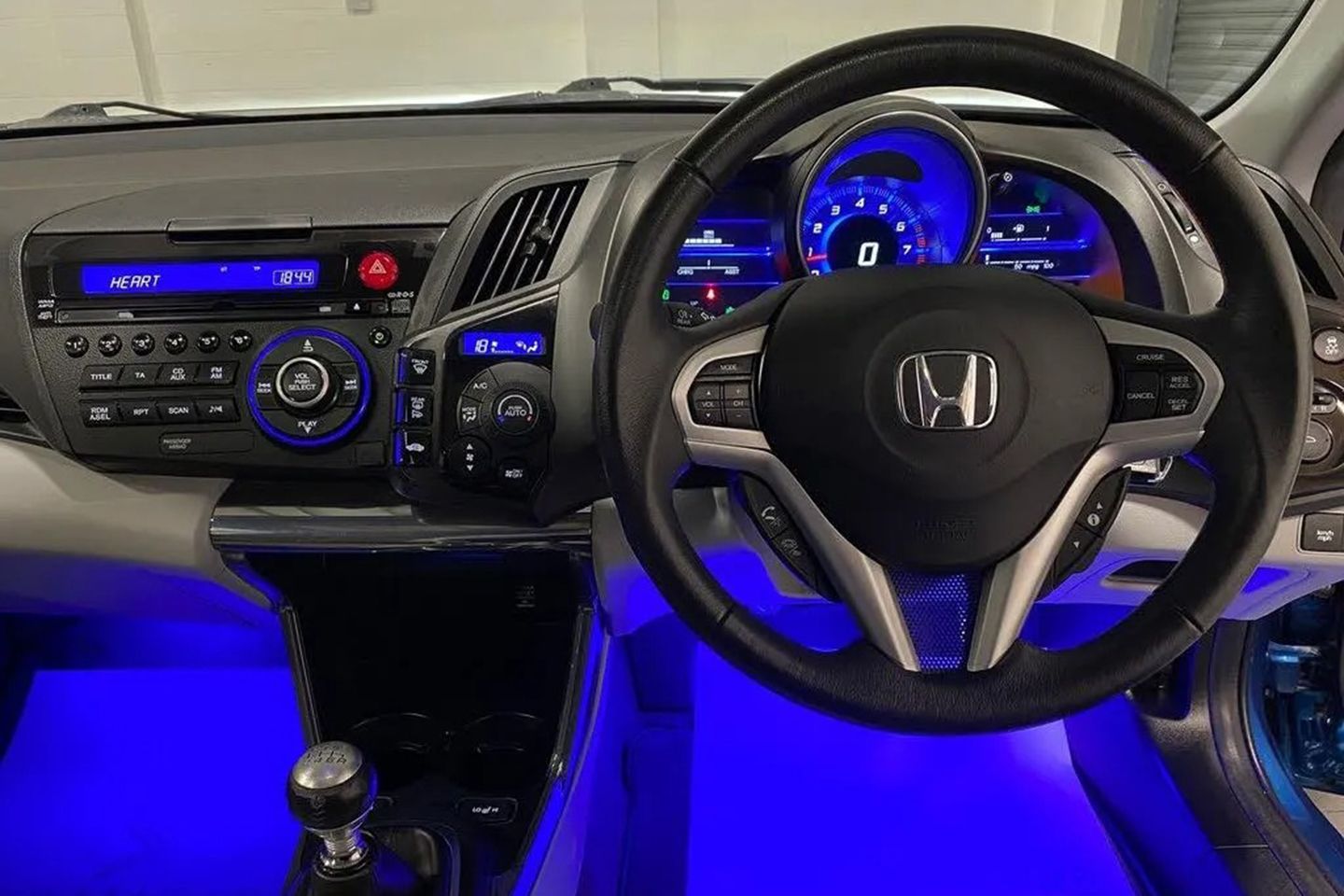 INTERIOR
There was a concept-car feel to the CR-Z's cabin and in particular to its hand-stretch control assemblies that was pleasantly reminiscent of the first Insight for those who remembered or had experience of that. Not everybody liked the dash layout, but the instrumentation gave you useful info, much of which was aimed at helping you maximise your economy. A weird thing for a sportingly inclined car to be suggesting back in the day but maybe not so dumb now in our energy-strapped economy.
Technically the CR-Z has four seats but realistically the back ones would be more accurately classified as padded parcel shelves. Although boot space is only 225 litres with the back seats up, that increases to a perfectly useable 401 litres when they're folded down, which they might as well be all the time. Light-coloured seat fabrics were meant to enhance the CR-Z's spacey feel but try telling that to a kid with a chocolate ice cream or a mate with a leaky Costa cup.
There was a big (i.e., global, not just Honda) steering wheel airbag recall which affected CR-Z owners, some of whom were made to wait months for a resolution.
Boot load covers disappear for some reason, possibly because used ones go for well over £100 a pop. Some of the dash buttons fade over time. Replacement panels are available but can be hellishly expensive. The glove box might refuse to open. If that happens, there's an easy answer: stop wearing gloves.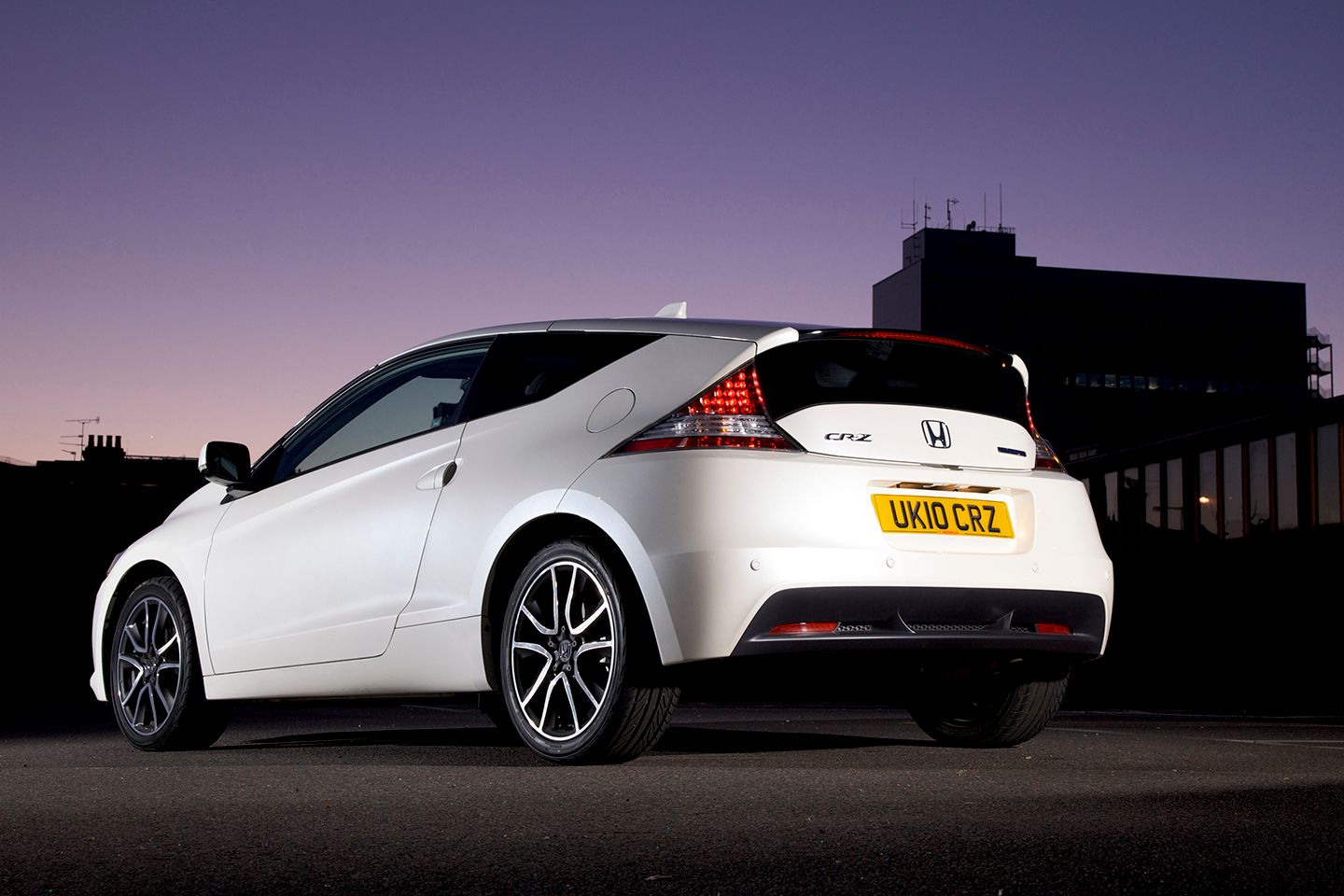 PH VERDICT
It seems pretty clear that the CR-Z was ahead of its time. When it came out in 2010 nobody really wanted 60mpg in a sporty car. If a car looked sporty it needed to back that up with sporty stats. Taking nearly ten seconds to hit 60mph from rest was not a sporty stat. 
Today, in 2022, we're in an energy pickle and suddenly 60mpg sounds like a fair trade for acceleration times that few will be bothered to verify. Besides, the CR-Z may not be fast, but nor is it slow. The good thing about this car is that you can own and run it like any Honda, i.e., with hardly a care in the world (some CR-Zs are happily sailing along with over 300,000 miles on them), but at the same time it's sufficiently different to arouse interest not just among the general populace but also in your own mind every time you get in it. Just nail a 'Power Isn't Everything' motto onto the inside of your front door before you step out to drive your CR-Z and you'll have the right mindset to enjoy this niche experience.
If you are desirous of conventionally high performance you can make it happen in a CR-Z, but given the low starting point it's not a case of bunging it in for a remap and hoping for the best. Replacing the entire power unit with Honda's 2.0 litre K20A motor, the company's first twin-cam i-VTEC engine, might seem a bit extreme but this is widely rated in the community as a fun conversion and an accurate tribute to the original CR-X. If you don't want to go quite that far there are a few HKS supercharged imports around which will be developing about 200hp. You can't help thinking that if the CR-Z had been putting this sort of power out as standard quite a few more would have been sold. There again, if they had they'd probably be going for at least £10k now, CTR style, instead of under £4k, or £4,295 in the case of this recently serviced 107,000-mile example from 2010.
At the top end of the scale, the most expensive CR-Z in the UK at the time of writing (Dec '22) was this 11,000-mile car from 2013. It's the next best thing to a new one and that's why it's on for £11,329. The only other CR-Z on PH Classifieds that should have the desirable lithium battery pack was this last-year (for the UK) Sport model with 57,000 miles, yours for £9,650.