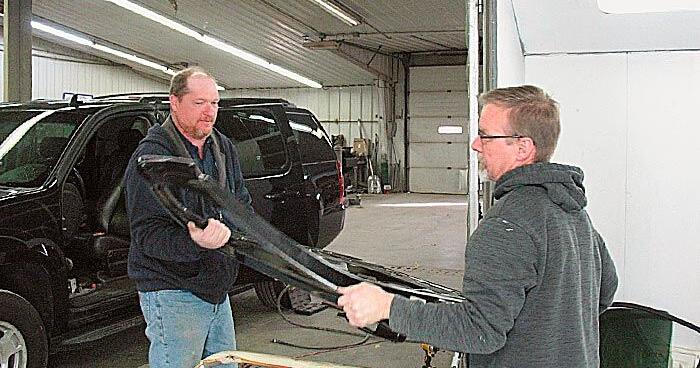 Businesses help put cars on the road | Feature
WISNER — When it comes to vehicles, Troy Kimble of Wisner can take care of you.
He can sell you a vintage Mustang. If you run into trouble on the highway, he can haul your wreck back to town. And once it's in his shop, he can smooth out and repaint the damaged places, making it look like new once again.
Troy Kimble came to Wisner in July 1998. He purchased Heckman's Body and Repair from his uncle, Lee Heckman, who had established the business.
"My uncle wanted to retire, and the opportunity was available," Kimble said.
He'd just completed a degree in auto body from Northeast Community College at Norfolk. Today, Kimble is the owner of three Wisner businesses. In addition to the body shop, he also runs Heckman Tow Service and Triple C Motors of which he's a licensed dealer. Assisting him are two full-time and two part-time employees.
Kimble completes body repair and painting, frame and glass work in his shop along Highway 275 east of Wisner. The industry has changed in the 24 years he's been in business. The evolution of the car has changed from gas-powered vehicles, to gas and battery run cars, and now electric cars.
In the past 10 years, he has focused on vintage Mustangs through Triple C Motors. He's shipped them to various places in the United States, as well as locations as far as Australia, England, Germany and Kuwait.
He may be switching the focus in the future from Mustangs to cars from the 1980s, Kimble said. Customers often purchase vintage cars as a way to relive their youth, and the youth of the 1980s are his customers today.
Heckman Tow Service assists with towing and recovery for small, medium and heavy duty conveyances, including cars, small trucks, farm tractors and equipment, semi-tractor trailers and larger equipment.
His service area includes Nebraska and Iowa, although he has traveled to Kansas, South Dakota and Minnesota to retrieve larger trucks and equipment.
Kimble has expanded Heckman Tow Service to include six wreckers to handle calls of all kinds.
"If you do the math, it's amazing what something can weigh," Kimble said, remembering the tow of a full grain car he estimates weighing as much as 92,000 pounds. Sometimes, more than one wrecker is needed on the same call. In response, Kimble and his staff have built several wreckers, all converted from a box truck. They're now working on a third.
After spending 2½ years building one of his larger wreckers, its first call was to pull a Chevy Tahoe out of the Missouri River, Kimble said, driving through fields to get to the site 5 miles from a main road.
He was also recently featured in a trade magazine for wrecker services, highlighting the day he pulled a semi-tractor and trailer out of a creek bed. The force of the wreck ripped the motor out of the truck, and caused the trailer to shear the cab from its frame.
Doing these types of jobs can be life-threatening, Kimble said. Running a tow truck is one of the most dangerous professions in the United States, he said. Every six days a tower dies in the United States, sometimes hit by traffic or pinned between vehicles.
Even so, Kimble enjoys his work and the community of Wisner.
"We give good service and offer a good product. Plus, we're locally owned," Kimble said, even though the days of mom and pop businesses are dwindling.
Troy and his wife, Kellie, live in Wisner, where she's employed at a local bank. Their two children, Shelby and Tyler, are college students.